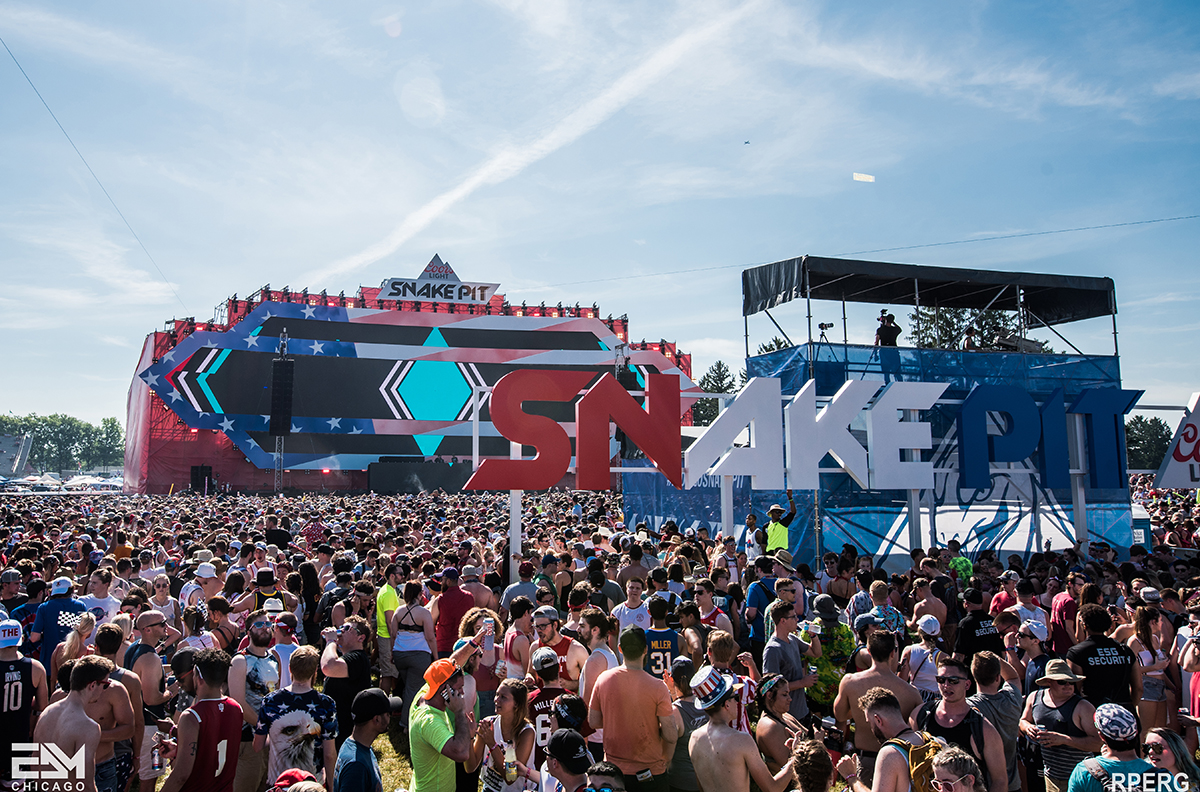 This previous weekend, one of the Midwest's larger EDM traditions took place in the form of The Snake Pit during the Indy 500 race. Held in the infield and starting at damnear sunrise and ending mid-afternoon, The Pit is easily one of, if not the most physically demanding EDM shows you will ever go to. No, really. I'm talking 90° Fahrenheit with a real feel of almost 105° degrees, which is basically tag teaming with the temperatures found in EDC this year. Yes, the Nevada desert was as hot as the inside of a giant asphalt oval in Indiana, but that's not counting the humidity and the fact that EDC takes up the entire facility, whereas Snake Pit is relegated to a small section of one turn. This makes the sight of concert goers dropping like flies and getting wheeled or carried away from the heat very common. How to counter it? By aggressively chugging whatever liquid fans can get their hands on, from battered cans of Keystone, to water bottles filled with everything except water. Once all the variables are in place, this formula usually adds up to one of the most aggressive yearly events I have ever personally witnessed, and we haven't even gotten to the music yet, because to be honest if the lineup wasn't fuego, these conditions would make it IMPOSSIBLE to trudge through it all. And this is where my review begins.
Snake Pit has matched it's aggressive circumstances with an even more intense lineup to match. While starting off back in 2011 with just local DJs, the Pit has slowly raised the stakes as it's grown in size until what I dub it's "climax" with it's 2017 lineup of Adventure Club, RL Grime, Marshmello, Zedd and freakin Ric Flair (Woooooo!) as the MC between each act. (Action Bronson also showed up for 30 minutes but we don't really talk about him cause he was kinda sorta out of place. Remember this later.) Just looking at that lineup alone, your first thought must be, "Hmmm, a pretty heavy lineup right? I wonder what other years looked like," and I'd tell you about 2016 with DJ Mustard, Zeds Dead, Skrillex and Martin Garrix, and 2015 with Caked Up, Milk n Cooks (aye), A-Trak, Aoki and Kaskade, or even 2014 with Matt Dash, Dillon Francis + Gerald, NERVO and Hardwell. See the pattern here? Pretty even spread in both the bass and big room genres while maintaining awareness of who was tossing around the largest amount of clout at the time in the scene. This awareness by the Pit booking team guaranteed that no matter how intense the weather became, if the DJs could keep up with their own intensity, the crowd could be kept in it for the long haul. You could see this easily during 2016 where the crowd was sprayed with LITERAL FIRE HOSES FROM FIRETRUCKS to cool them down while Skrillex played the heaviest set I've ever seen him drop with IDs that still haven't seen the light of day yet. Well then you would probably understand my confusion when this year's lineup was announced and it sang the tune of ATTLAS, Griz, Diplo, Axwell V Ingrosso and deadmau5.
At first glance, the thoughts of "C'mon man, these are some pretty big names, they've got clout. What's the issue?" should be coming to mind, and with any other EDM based show I'd be fully behind this sentiment. But remember the weather to intensity ratio I was talking about here? Well out of that lineup, who really could keep up with that ratio when comparing to the lineups of the past? Griz maybe? He's got his tracks, mainly jazzy and funky but a few truly bass heavy ones here and there. Diplo too, right? The King Of Mad Decent can travel across genres and keep the heat up right? 2/3s of Sweedish House checks off the big room house genre vacancy so no questions for that choice. But then there's mau5trap. Can ATTLAS and deadmau5 really keep the intensity up? Or will they just feel tedious as the heat keeps ramping up?
These were the questions bouncing around my head as I walked in, and they really played out exactly how I expected. ATTLAS played a melodic progressive house set to start out the day. Clean cut and well paced, it was objectively a very good house set, and felt very out of place in the Pit, which could easily be seen by the total lack of crowd response. Well what was the crowd at this point? It consisted of completely plastered college students and recent grads, with others coming in from the gate and playing catch up. Not really an environment where the maximum amount of crowd movement is people turning around to ask when the next act gets on. This is where I immediately started to grow strong doubts.
Welp ATTLAS comes off as quietly as he gets on and here comes Griz, starting off with a funky mashup and then diving into routine. Here is where the crowd gets some momentum, but there's clearly a divide as it's pretty spotty. There's the Griz fans (and I mean GRIZ FANS) who are absolutely losing their shit, vibing out, showing support to the man and cheering him at the top of their lungs every time he shows us that not quitting band in middle school could've opened some career opportunities. But then, there was everyone else, and there was A LOT of everyone else. Midway through a sax filled remix I heard a girl say to one of her friends, "I don't get it," and proceeded to sit down on a cooler in the middle of the crowd while a guy next to her in full EForest attire stared at her in complete disbelief. That interaction says it all really.
Next came Diplo, and to be honest, he fucking delivered the heat Snake Pit is known for. Not even getting on the mic, Dip jumped right into action and did what I like to call the "panic DJ", where a DJ can tell a crowd is dying so they just spam them with the greats to pump them back with adrenaline and get them moving. The King pulled it off flawlessly, filling his hour long set with enough energy that when he silently hopped off heads were still bouncing and vibing even through the anthem and other race notifications you have to sit through to remind everyone that EDM isn't the only thing going on. By the time the first few laps played by it was time to start the next act.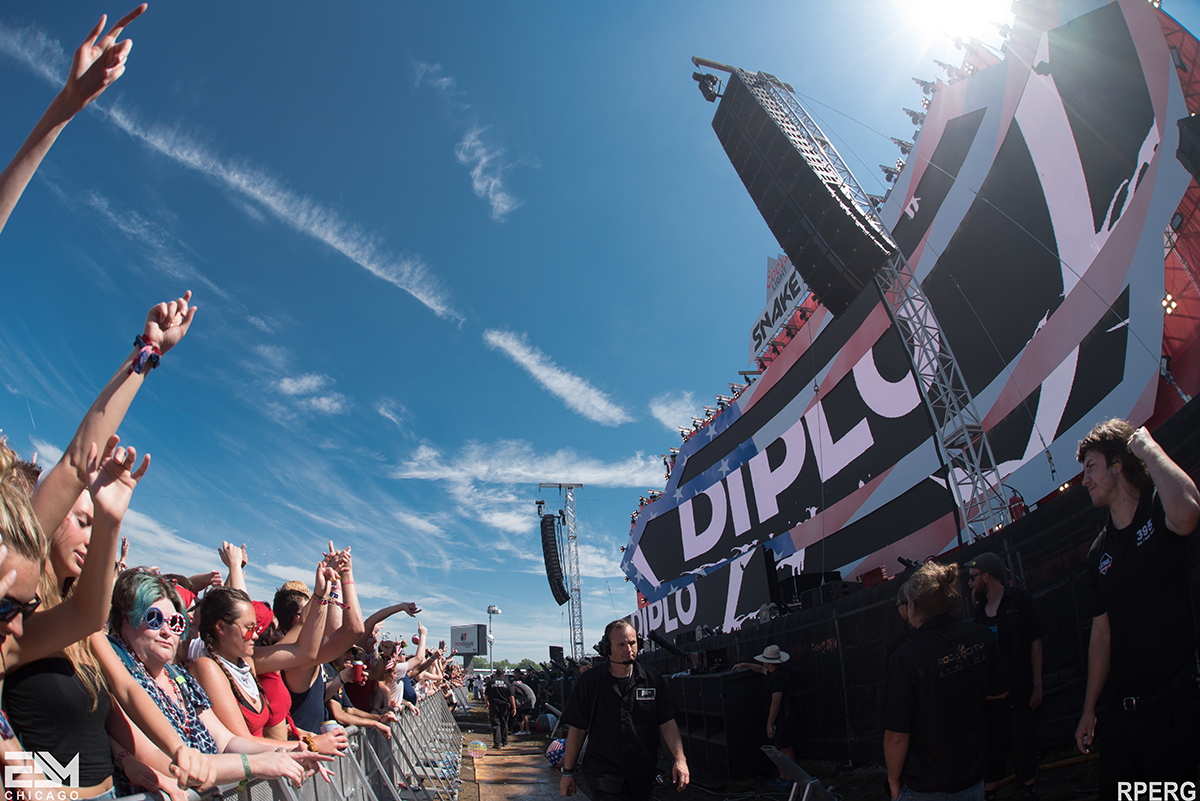 It was time for deadmau5 to start.
Except, not really, because his music sparked on for a few seconds before cutting off into silence, proving the age old saying that wherever Joel goes, technical issues are sure to follow. This time it was the hot temperatures, which fried his laptop and controllers, so while stage hands were trying to cool those down, the crowd kept heating up. Left and right I saw people tapping out, either to the medical tent or all the way back to the gate, all the while the stage sat in silence with the occasional quip from le mau5 to encourage cheers for the sound techs working away to fix the issues. By the time music had begin to slowly creep out again, the momentum gained from the acts before was no longer there and being in the crowd felt more like a pulsating hangover than an EDM extravaganza. This is also where I point out that, by no fault to deadmau5 or mau5trap, the music did not help this sentiment. Being mainly an instrumental set devoid of most of his recognized classics and relying on progressive pulsating tracks, the crowd and myself were not digging into the set like we have in years past. Instead, what was a slow trickle out began to grow some pressure at the people around me got replaced by newer faces that were further back in the crowd.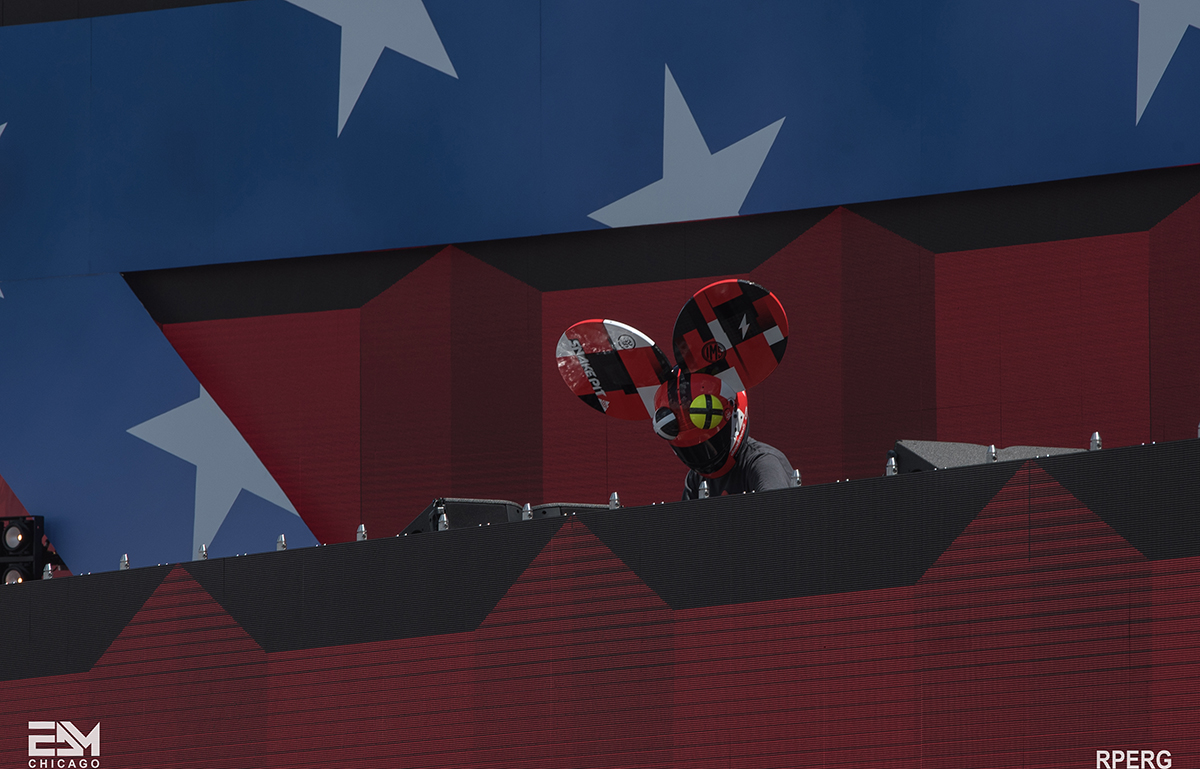 I wish I could tell you more about Snake Pit, but I honestly left around this time. Having long ran out of water in my CamelPak and having run out of patience with the music, I decided to cut my losses while I was still able and made the walk out the Pit. From what I heard, Axwell V Ingrosso put on a pretty decent set, but again they probably would have had an easy time guaranteed due to just what deadmau5 was playing period. This is where my biggest grievance came from Snake Pit for this year; it was as if the booking team had no idea what type of event Snake Pit truly was. I'm sure anyone who had gone any of the years beforehand would be able to easily gather that Snake Pit is a bass focused event and while I'm not saying progressive artists couldn't pull it off, they would have a much harder time getting the crowd on their side if they didn't know how to mix it right. That being said, ATTLAS and deadmau5 objectively had very good sets and I would've enjoyed them greately…if they weren't in the Pit.
[foogallery id="51667″]
Photos by Ryan Pergola