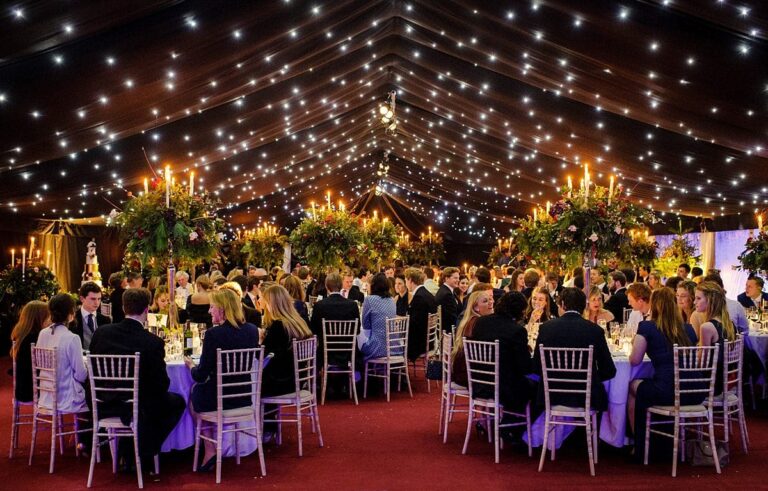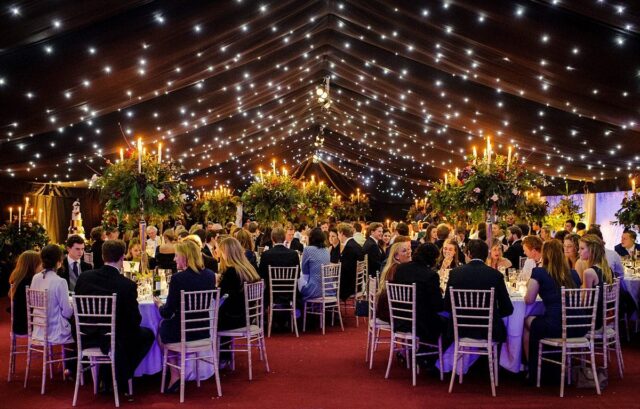 Marquee tents are best known for hosting parties and events during the summer, but the outdoor fun should not stop when the temperature outside drops. Most event organisers shun hosting marquee events outdoors as the winter approaches.
Contrary to the popular belief, outdoor marquees are still great venues for fall and winter events. Whether it is a wintertime private party, wedding reception or backyard barbecue, if you plan it the right way, your custom marquee tent can offer space, comfort, flexibility and customisation options. By understanding how to keep a marquee warm and cosy in the cold weather, you can get the most out of your winter marquee event.
Tips to keep your marquee warm inside when it is cold outside
Here are some tips to keep top-of-mind while planning a warm winter event with custom marquees:
Tip #1 Choose the right size marquee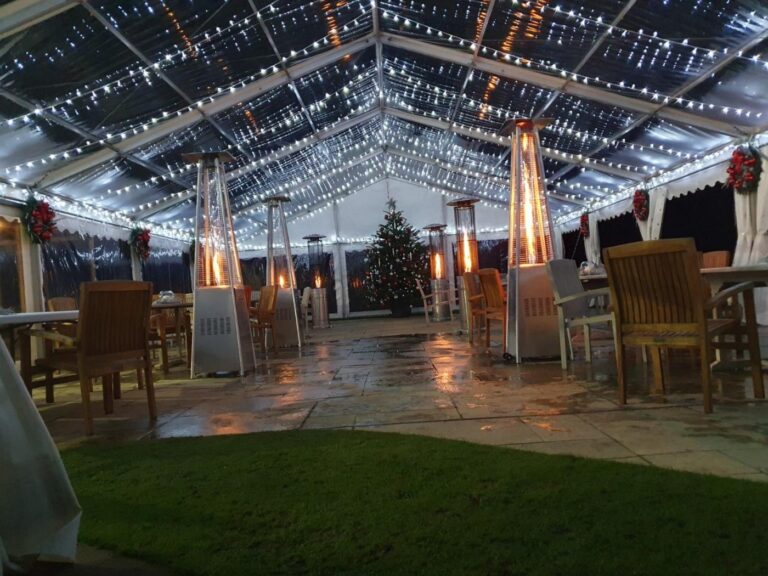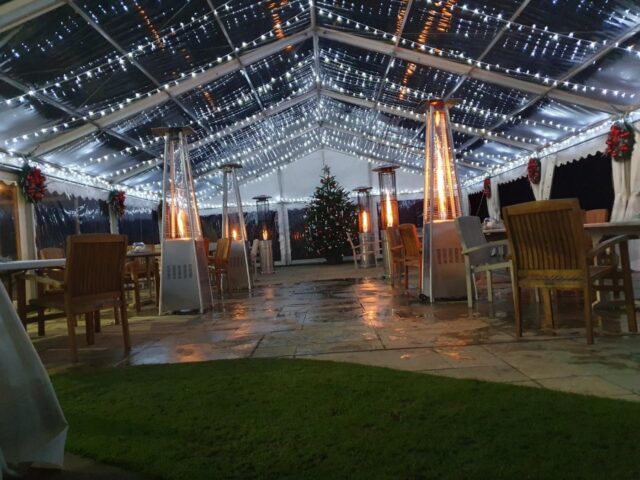 Start with determine how many guests you plan to invite and the seating arrangements. It will help you choose the marquee size. Once you determine the size of the marquee, you can start thinking about how to winterise a marquee tent.
The size of your marquee will also help determine how many heaters you will need to keep your guests toasty warm during those chilly nights.
Tip #2 Adding sidewalls
Even the best heaters won't be able to keep your printed marquee warm and toasty if the heat keeps escaping and the cold air keeps coming in!
As the weather gets windy and cold outside, consider adding detachable sidewalls to enclose the entire marquee tent. Sidewalls can help to keep the cold winds out and trap the warm air inside! Make sure you keep your marquee closed with only a small opening for entry and exit and place a heater near it. Not to mention the sidewalls allow you to customise how your marquee looks.
If you have the luxury to decide the location for your event tent, consider choosing a sheltered spot away from any winds, preferably near trees or other natural wind-breakers. It helps to keep the temperature inside the tent more moderate than those open fields.
Tip #3 Use the right heating equipment
You got the right tent size. You added the sidewalls. But you still want something more – a heater!
When planning a winter event, one of the biggest concerns is keeping the inside of your branded marquee adequately heated. Using tent heaters is one of the most effective ways to keep guests warm and comfortable.
Typically, propane heaters are the most popular and affordable heating options for outdoor events. They can quickly warm up large spaces but are only suitable for well-ventilated areas as they release fumes. It is better to have multiple small heaters positioned around a large marquee tent rather than a single large heater in one place.
You can also attach a diffuser to a propane heater to distribute heat evenly and maintain a consistent temperature inside the marquee. It allows guests to spread out and enjoy the party without huddling around the heater.
For smaller custom marquees, portable fan heaters and infrared heaters are ideal since they can generate heat quickly without fumes or smells.
In addition to heaters, there are other heating options like fire pits to please guests who go out for a smoke in the cold and portable radiators that help keep your guests warm during colder months. Make sure you fire the heaters up an hour or so before the guests arrive.
Tip #4 Consider the marquee quality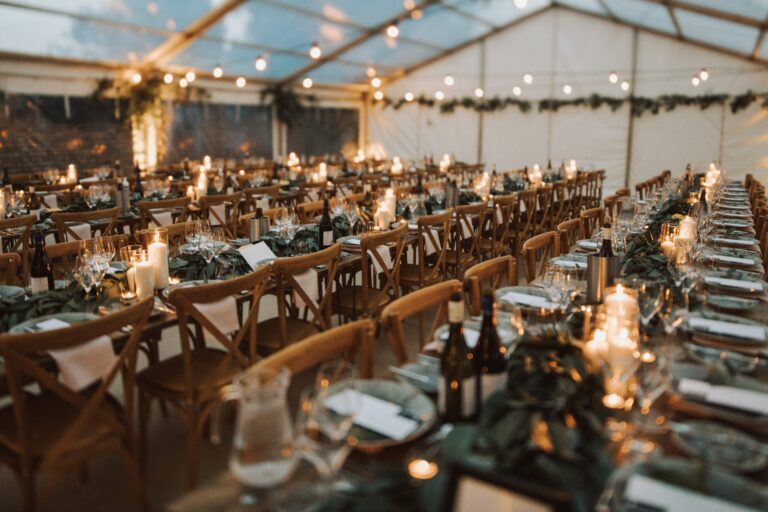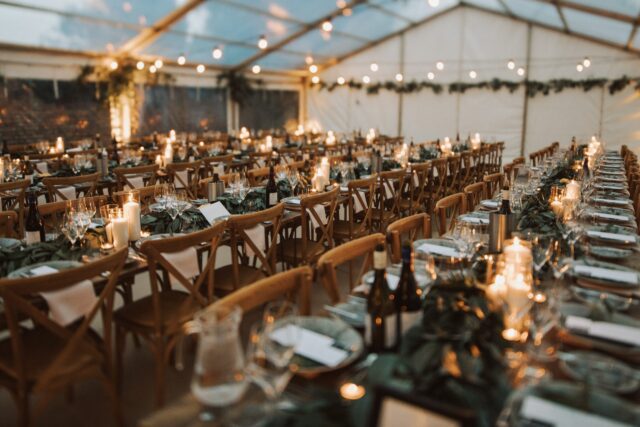 When hosting a tented event in the winter, make sure your tent is made from high-quality materials. Your custom marquee should have a sturdy frame with a heavy-duty, waterproof canopy that can withstand harsh weather elements like rain and snow.
When putting a heater in the branded marquee, check the fabric is fire-retardant so you don't have to worry about a potential fire hazard.
Tip #5 Lighting sets the mood
Lighting does more than light up your space. It sets the mood for your event and transforms any sterile and ordinary atmosphere into something warm and welcoming.
Even if you are hosting a daytime event (late afternoon/early evening) in the winter, your custom marquee may need appropriate lighting. The entrance and outside area should be well-lighted. The lights inside and around your branded marquee should give guests an impression of a warm and cosy space.
You can use warm lightings, such as fairy lights, candles, up-lighters and lanterns, or a combination of these to create a beautiful and inviting ambience. If you have a dance floor, complement it with coloured or flashing lights to amp up the party's fun.
Tip #6 Use warm colours
The colour of the lights can change the perception of temperature to a great extent. While it may not make any difference to the actual temperature, it will induce a feeling of warmth in one's state of mind. Instead of cold white or blue colours that have a freezing effect on guests, go for warm colours like auburn and orange to uplift the ambience of your marquee. Such warm colours help induce a warm, comfortable feeling in chilly weather.
If you want to stay warm during a cold winter evening or nighttime, go for a dark-coloured tent, for example, burgundy or black. Such a deep ambient colour will hold heat more effectively and certainly detract guests from the bitter cold outside.
Tip #7 Floor it up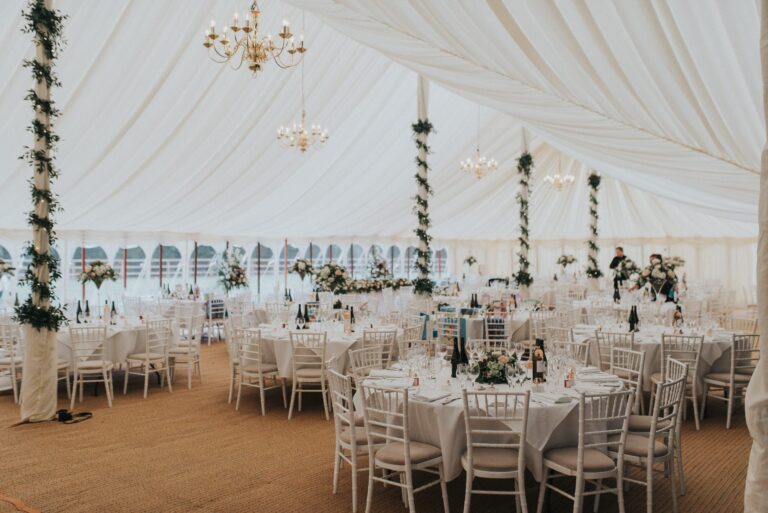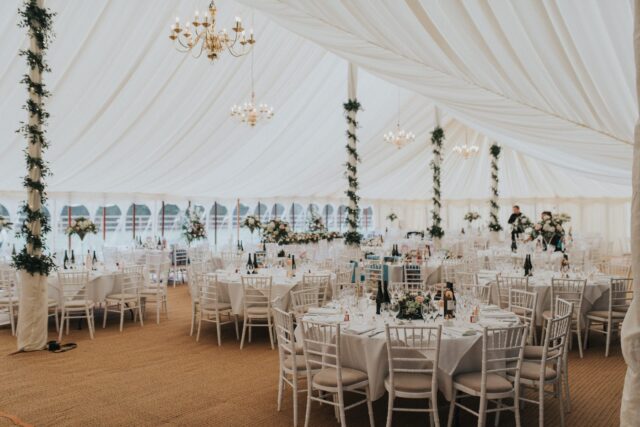 Since winter can cause wet and mushy ground, you need the right flooring to keep it warm inside your marquee. The right marquee flooring provides a hard floor and keeps water from seeping during wet winter. Flooring insulates the ground and feels warmer by providing a layer between your feet and the cold ground.
Just like lighting, different areas of your printed marquee tent can have different styles of floor coverings. Different styles, colours, and finishes for floor coverings will enhance your party theme and create a more welcoming space for your guests.
Tip #8 Focus on the finer details
You can also add decorative furnishings such as soft cushions, coloured linens, rugs, warm throws and blankets to show that you care about your guests' comfort.
You can accessorise your custom printed marquee entrance with some candles and fiery flambés to add that "wow" factor to the ambience. Add seasonal foliage and warm, colourful lights to bring the outdoors in without the bitter cold.
Additionally, serving your guests hot beverages like Irish coffee, hot mulled wine, or classic hot apple cider can help them enjoy the winter warmth. What is a better time for a hot chocolate bar than a winter event? Heat up the food menu with seasonal spices and hearty winter dishes, such as soups, stews, curries, hog roasts and warm cinnamon doughnuts to add extra cosiness to your winter marquee event.
Final Thoughts
Hosting a warm winter marquee event may present a myriad of challenges to be taken care of during the planning process. These helpful tips help create a warm and comfortable space inside your custom marquee tent without compromising the beauty of the winter landscape. Let's get the winter marquee party started, shall we?