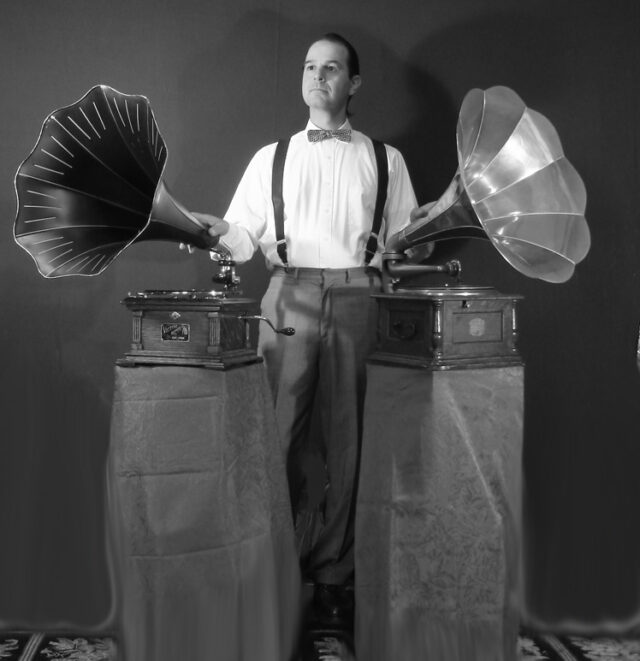 In Midtown Manhattan, there is a monthly dance party dedicated to dance tunes from the 1920s. Interestingly enough there has become a niche gathering who also play dance tunes form the 1920s. When someone wants a DJ for a this specific type of gathering, then Michael Cumella is who comes to mind.
Mr. Cumella is not your typical DJ, who usually sporting Pioneer CDJs or Technics 1200s. Mr. Cumella is an entirely different type of DJ all together. That is because he spins on antique phonographs (a 1906 Victor and 1905 Columbia to be exact). Due to the gear that Mr. Cumella is using, he is most definitely in a category all his own. Since Mr. Cumella has such a unique style of rocking parties, it has nabbed him regular monthly gig at the Campbell Apartment, Which is a nightspot located in Grand Central Terminal in New York.
Mr. Cumella started out as a collector after buying a Victrola and records he spotted at a garage sale. After meeting other avid collectors, Mr. Cullen was informed about parties around New York that appreciate Jazz tunes from the 1920s, especially when they are played on antique phonographs. Mr. Cumella started to frequent these parties, and eventually started playing at them, thus spawning his monthly party.
Even though the niche culture of 1920s Jazz dance music is a small one, Mr. Cumella and his band of antique loving friends can keep the culture moving for a while. Though Mr. Cumella spends time getting ready for his monthly party, he is still an avid collector. Thus shifting his focus to collecting to music that was acoustically recorded all the way up to the late 1920s.
All in all, using a phonograph to rock a party may not be the most practical. But kudos to Mr. Cumella for rocking the party in a unique way.
Mr. Cumella also has a radio show called \"The Antique Phonograph Music Program with MAC\". Check it out via the link below.
http://wfmu.org/playlists/AP
Information:
Name: Michael Cumella
Age: 52
From: Nutley, N.J.
Resides: Gramophone D.J.