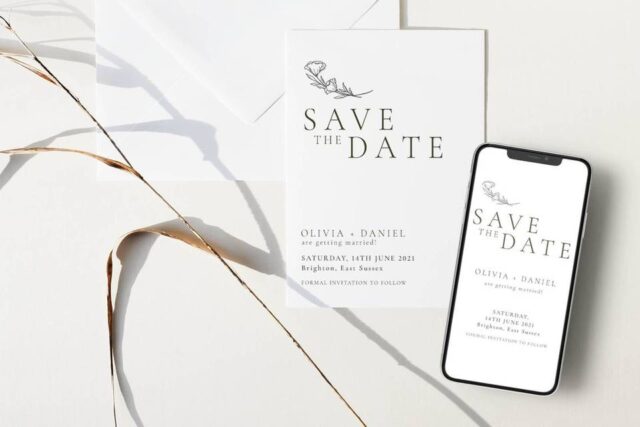 If the big day is coming, you know how important it is to plan well for it. What makes the difference between a big wedding and a small one is the number of guests who will attend: friends, relatives, workmates, and other people you know. But you need to invite them formally using a wedding invitation card so that they can feel part of this momentous occasion. Luckily, very elegant and minimalistic cards are readily available on the web these days, and you can choose right from your mobile phone or computer.
Together with your partner and wedding planner, you can review different save the date card templates from a reliable website and pick the one that suits you. With all the options, settling on one can be an uphill task. But with TimberWink Studio, this is not an issue; they have clearly categorized their wedding invitation templates so that clients have an easy time choosing what they want.
Furthermore, this guide will provide detailed instructions on how to choose a minimalistic but elegant save the date wedding invitation template for your big day.
Why Minimalistic but Elegant?
The modern world is changing to favor minimalistic art and designs because they look appealing and less overwhelming. For a save the date invitation card, the most important message is the gesture of invitation; after all, most of the guests are people who already know you and are even part of the wedding.
Minimalistic but elegant wedding invitation templates are appealing to the eye; hence, your invited guests will not forget to reserve the date for your big day.
Minimalistic wedding invitation templates make the best e-cards for sharing on social media and among your contacts. So, look for a template that is mobile-friendly if you wish to invite some of your guests via mobile phone.
Types of Minimalistic but Elegant Save the Date Card Templates
It is okay not to know the best wedding invitation templates to use. But you and your partner or a wedding planner should make a decision fast, especially with all the other logistics planning on your to-do list. Here are the most popular types of minimalistic but elegant save the date card templates.
Modern save the date card template – Most of these come in a high-resolution modern design that you can easily customize to suit your design. The template is simple yet elegant with modern writing and preferably no photo. It is also printable on plain white paper or any other the bride and the groom may prefer.
 Polaroid save the date card template – As the name suggests, this template comes with your photo in a Polaroid design and leaves the bottom part for the text. Therefore, you need a high-resolution photo of the bride and groom. It is mobile-friendly and will linger in the memories of your invited guests until the big day arrives.
Floral save the date card template – When it comes to floral wedding invitation templates, you and your partner will be spoiled for choices. The options are as many as your preferred service provider has. You may explore options like a magnolia flower template, burgundy floral template, botanical wedding card template, and eucalyptus greenery.
Budget save the date card template – There is nothing wrong with being on a tight wedding budget. Fortunately, minimalistic but elegant wedding invitation templates will save a lot of money for you. They have simple features but remain very functional, especially when you and your partner customize them carefully before printing or sharing on social media.
Black and white save the date card template – A black and white design is still elegant, especially when designed by a professional. If this is what you would like to have, then create one for yourself from a reliable template seller.
Do any of these wedding invitation templates sound amazing to you? Does your partner prefer any of them? Well, it should be easy to find appealing templates because they are very popular. However, there are many other options depending on the template website you prefer to use. Below, we will guide you on considerations to make to choose an appropriate minimalistic but elegant save the date card template.
How to Choose Save the Date Wedding Invitation Templates
Even if you know the type of wedding invitation template you want, it is still important that the bride and groom make the following considerations to have a perfect card.
Customization – Preferably, all save the date wedding invitation templates should be customizable using provided tools. Most reputable websites guide clients on how to customize their save the date card templates to suit their needs. This includes changing background colors, choosing a printing paper, adding a photo, and inserting the message among others. With this, the only thing left is to print the card or convert it to an e-card for sharing on social media with your guests.
The size – Some minimalistic wedding invitation templates are just one page while others are foldable. Basically, the seller should provide the recommended sizes for clients to choose from. But others may allow you to customize the size as you want. Ensure your save the date card template has modern sizes to look more appealing to the eye.
Get a demo – Before you buy a wedding invitation template, it is best to have a demo of how it looks. Fortunately, many reputable sellers offer a link to create a demo and have a look at the final product. But the card will have a watermark, or it will not be downloadable until you buy the template.
The Prices of Save the Date Wedding Invitation Templates
Lastly, consider save the date card templates that give value for your money. Ideally, you should work within your budget but ensure you get the best. These templates are not quite expensive, but printing can be depending on the paper and design or the charges of the printing service provider. All these are factors to consider before making the final decision.
Final Thoughts
Buying wedding invitation templates online is nowadays a norm, and this makes it easy for the bride and the groom to plan their big day. We hope that this guide helps you make the right decisions when choosing minimalistic but elegant save the date card templates.