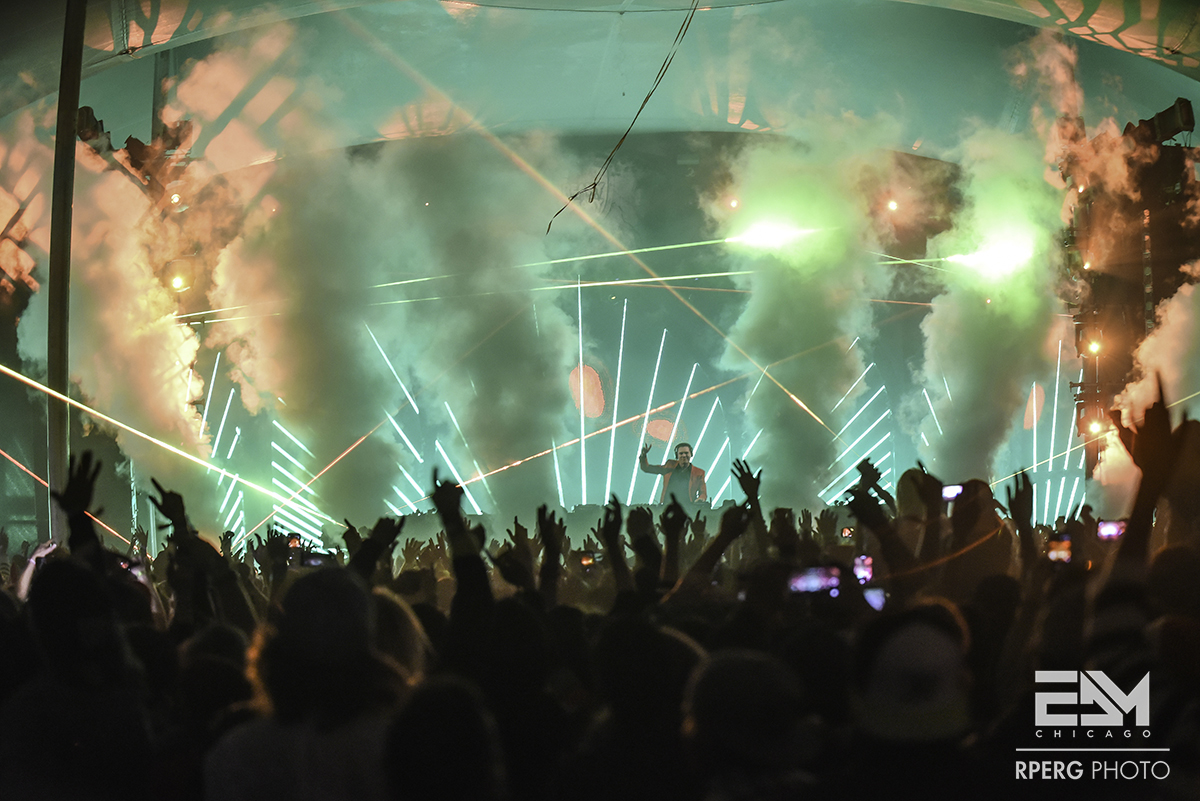 The second installment of React Present\'s Freaky Deaky was held this past Halloween weekend at Toyota Park. Compared to last year, the fest went fairly well. Over the course of three days, Toyota Park held home to acts like Disclosure, DJ Khaled, Bro Safari, and Duke Dumont, amongst many others.
With three covered stages, the fest faired well with the wind and slightly cold weather. The three stages resided in Toyota Park\'s parking lot, leaving the stadium stageless. The Shrine and The Big Top were the two largest tented stages, whereas The Crypt stood slightly smaller. The tents were useful to escape from the cold, but unfortunately, access to the tents could prove difficult at times. More than once over the three day fest, I found myself stuck far outside of The Crypt (Illenium, your crowd was so packed. I tried my hardest to get in).
The rest of the grounds included carnival rides and food vendors. On top of classic carnival food, Freaky Deaky hosted a plethora of food trucks and vendors. While food was made easily available, water was not. Freaky Deaky had one lone water station. For a whole festival worth of people, there must be more places to refill bottles and Camelbaks.
The talent this year was pretty outstanding.
Minus the absurd traffic getting in on Friday, the first day of the festival went pretty well. Early on in the day, San Holo and Black Tiger Sex Machine brought louder than life sets with tons of energy. Gareth Emery took his crowd on an emotional and may I say quite amazing ride. Illenium killed it, and I wish I could have actually gotten inside The Crypt to see him play. Closing out the first night was Disclosure, Bro Safari, and Dimitri Vegas & Like Mike. Disclosure brought a fantastic, house-y DJ set with plenty of their hits mixed in. Bro Safari broke some necks with his bass-heavy set. Dimitri Vegas & Like Mike did what you would expect, large anthems and lots of \"Chicagoooooo\" bouts into the mic.
Saturday brought some Chicagoland favorites early in the day with sets from Milk N Cooks and Mielo. Some notable sets of the day included Snails, Claptone, and Gramatik. I had low expectations going into DJ Khaled, but the man pulled off a pretty great set. Yet the best set of the day for me went to Gryffin. The 26-year-old performed an absolutely incredible live set full of his extraordinary remixes as well as original tracks.
Sunday held some unbelievable talent such as Lee Floss and Boys Noize. Duke Dumont put his crowd in a trance with a deep house set, and Jauz did what Jauz does best: dirty beats and heavy drops. Tiësto, ScHoolboy Q and Jamie Jones closed out the fest, each with a very different performance. No matter where you were Sunday night, there was a 100% chance of a fun last performance to close out the weekend.
The 3-day fest held its own.
Whether it be house music, heavy bass, rap or live performances, the 3-day festival truly had something for every type of person. The weather was surprisingly nice for the end of October, and if you needed a minute to gather yourself and sit, you had the option of watching the Cubs game on a large screen.
Over all, Freaky Deaky seemed more well thought out for their second year at Toyota Park. For a cold weather fest held in a parking lot, I\'d say React Presents and their team did a fantastic job with this one.
Until next time, Freaky Deaky.
Check out EDM Chicago\'s photos from the weekend by RPerg Photo below.
[foogallery id=\"43609\"]