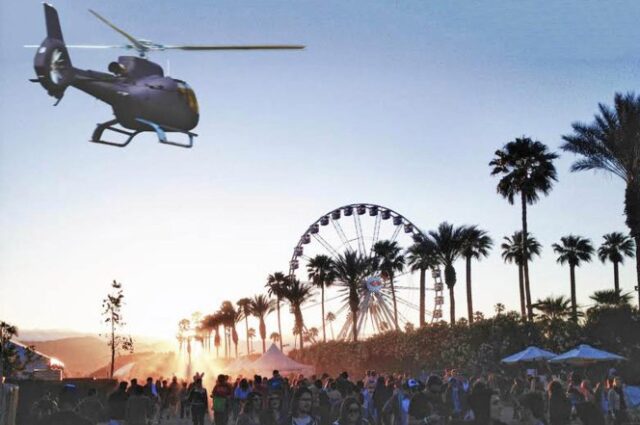 Only a handful of months are left until one of the most iconic music festivals in the world opens its gates for round 16. For those lucky enough to make the pilgrimage to the two sacred weekends, they can rest easy knowing they drained their bank accounts for a lineup that is shaping up pretty nicely so far. And while the official lineup has not been put out yet, fans on the official forum threads have been hard at work weighing artists and their confirmed schedules and to compile some pretty nice looking \"potential schedules\" like the one below.
While many lists are swirling around, I\'ve decided to take the time and post what artists I\'ve found through my research and CONCRETE PROOF stating their performing at Coachella, whether that\'s the artist saying it themselves, or \"insiders\" saying the artist with a noticeable gap in their tour schedule. Note that while my list will be shorter than most, it is concrete, given I actually went through and scoured reddit, press articles and forums to find proof for every name on all these so called \"confirmed\" lists. After all, most people say whatever they want when it comes to these rumors and literally anyone can make a thread titled \"DJ Henzel Sole Headliner of Coachella\" and somehow catch steam. Anywho, without any further delay…
Yes, They\'re Going
Bonobo
Proof – Recent press release with Vogue
DJ Khaled
Proof – Personal Snapchat
The Shins
Proof – They\'re releasing their album early to book Coachella
Chic
Proof – I mean…can you refute this?
Warpaint
Proof – Just a lot of random confirmations
DJ Snake
Proof – He said so, before quickly swiping it off the internet and snapchat. Thankfully, some screenshots were taken.
Kiiara
Proof – lol
Rae Srummurd
Proof – Apparently someone spoke to their manager on the message boards. I couldn\'t find the thread but the references are throughout reddit and the official forums. *This is me slacking off*
STRFKR
Proof – ( ͡° ͜ʖ ͡°)
The High Probability Rumors
Martin Garrix
Proof – This interview claims he\'s very interested
Justice, The XX, Big Gigantic, Tycho
Proof – Some reddit \"insider\", but looking at their tour dates and the noticeable gaps in the April region…seems legit…ish
Beyonce, Kendrick Lamar, Radiohead
Proof – There isn\'t really substantial proof outside of this article. The rumors around the internet are huge with these three, but no one has come out saying they spoke to Thom, Kendrick or Bey or any of their personnel. Granted, their schedules are open around that time, but that alone usually isn\'t enough to get a cold confirmation…
Local Natives
Proof – \"A redditor says…\" plus tour dates have a fatty gap between shows. Coincidence?
Alt-J, Grouplove, Kaleo
Proof – \"You don\'t have to believe me, but the industry says so.\" Along with personal accounts in comments. Meh…
Anyone other than the guys I just listed is either wishful thinking from someone somewhere or the artist was really good at clearing out any claims online. And with that said, here\'s one of the lists I worked off of to let your imaginations run wild with.
Alison Swing
Ben UFO
Beyoncé (Saturday)
Bonobo
Cage the Elephant
Capital Cities
Chic
DJ Khaled
DJ SNAKE
Floorplan/Robert Hood
Grace Mitchell
GRiZ
Jagwar Ma
Joseph
Kendrick Lamar
Kiiara
Klangstof
Liam Gallagher
Local Natives
Marcel Dettmann
Martin Garrix
Nicolas Jaar
Post Malone
Radiohead
Rae Sremmurd
The Avalanches
The Lemon Twigs
The Shins
The xx
Warpaint
Zipper Club
Allah-Las
Bastille
Chicano Batman
Grouplove
Jean-Michel Jarre
Kaleo
Kehlani
King Gizzard & the Wizard Lizard
King Sunny Adé
Moderat
SOHN
S U R V I V E
alt-J
Big Gigantic
Blues Pills
Brodinski
Carly Rae Jepsen
Cashmere Cat
Classixx
deadmau5 & Eric Prydz
Dillon Francis
Diplo
Dreamcar
Ekali
Francis & the Lights
GOAT
Gucci Mane
HAIM
HONNE
Jai Wolf
Jon Bellion
Justice
Lorde
LUMBERJVCK
Mac Miller
Massive Attack
Mondo Cozmo
Pond
Richie Hawtin
RÜFÜS DU SOL
Tegan and Sara
Thundercat
Tourist
Travis Scott
Tycho
What So Not