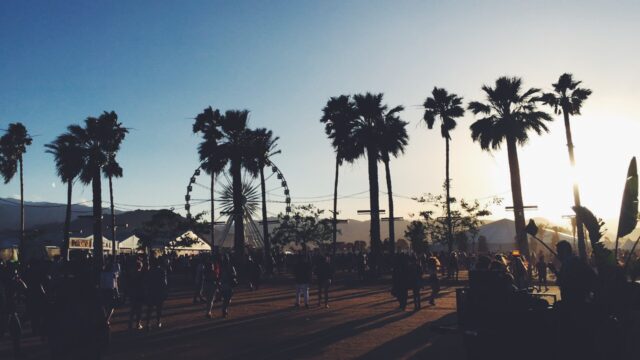 Never in a million years did I think that I would take on some of the biggest festivals in one festival season but EDM Chicago seems to be doing just that. This past weekend, yours truly was out at Coachella Music Festival, experiencing the festival that seems to get some of the largest attention through the internet and social media networks.
Being a festival veteran, I must say that there IS something that seems to set apart Coachella from all of the other festivals I have ever attended. Being in the middle of Indio Valley, the mountainous range and palm trees create one of the most beautiful landscapes for the festivals, also housing some of the most beautiful sunsets I have ever seen. The heat although blistering at times, was a wonderful change from Chicago weather and truly added to the idea that Coachella was kicking off the summer festival season.
One thing that Coachella is wonderful at is dividing the different genres of music presented at one venue. With phenomenal EDM performances, there was also such an intricate blend of rock, live acoustic performances, and many many more. Tailoring to all the different music tastes, each stage was designed to be unique from the rest. Spending most of my time in the Sahara tent, I was mesmerized by the visuals that merged between the geometric cubes as well as projecting with the lasers onto the cubes that rotated and hung off the ceiling. Sahara\'s layout reminded me of the ASOT stage at Ultra but with a twist. The Outdoor Stage was wonderful for housing bigger crowds that were brought by Jack Ü and A$AP Rocky and provided an amazing light show. The Heineken House is a favorite due to the intimacy of the area. Maxing out quite often due to a maximum capacity of people who can be inside, waiting in line is absolutely worth it. Once inside, you\'re surrounded by about 100-150 people max, all who are incredibly into the music. The best part of Heineken though is how close one gets to be to the artist. Unlike most stages, there isn\'t a barrier or a heightened platform, you literally get to be one with the artist. The artist to crowd connection at this stage is unreal and the energy is practically cohesive. Lastly, the gem that I had stumbled upon on the last day of Coachella Weekend 2 was the Yuma tent. With dimmed lighting and having nothing but disco balls and white lasers fill the room, the atmosphere was unreal. House beats practically shook the walls and those who wished to shuffle out their heart to the amazing beat, did just that (myself included).
One thing I truly did want to address about Coachella was how under hyped the food was. Having he ability to sit down and enjoy a pad thai bowl with fresh lime slices right before head-banging my heart out at Snails, was impeccable. Having some of the best variety, Coachella had food accommodations for everyone; the meat-lover, the vegetarian, the vegan, and the other food trendy people that I can never keep up with. Having snacks and Popsicles to cool off during the day, my group and I agreed to one large sit-down meal inside the festival a day. Everyday we would grab our cuisine of choice and head over to the colorful canopy tents under which there were a lot of other awesome people relaxing and taking a break as well. I got pad thai the first day, quesadillas the second, and an Asian fusion bowl, the third. The portions were so big that I couldn\'t physically finish my whole meal during any of the days. Amazing tastes and even better options, Coachella proved it\'s food to be worthy of more than just the watermelon slices.
The music that I experienced during Coachella Weekend 2 was incredible. Friday, Nina Las Vegas was a coincidental drop by and I was BLOWN away by her performance. Her drops and mixing reminded me nothing short of Valentino Khan. I enjoyed her set so much, that I went out to go see her play yet a second time on Sunday at the Heineken House. Sam Feldt and Autograf had wonderful sets that set excellent vibes for the night. Jack Ü closed off the night with a bang at the Outdoor stage and sealed the first night of the weekend with a bang. Saturday\'s mid-day lineup of Vanic and Lost Frequencies was house music galore. And then Snails absolutely blew my mind. Getting up to second row at the show, the bass made my entire body tremble. Later during his set, he brought out Marshmello and Flosstradamus which made the performance, an unforgettable one. Right after the dust settled from that set, the ambiance and vibes from Zhu\'s set buzzed through everyone\'s head and finishing off the night with RL Grime\'s midnight slot during which he manipulated the crowd with every beat that he played. Opening up with his newest single \'Aurora\', RL Grime continued to bring in classics into his set such as \'Core\' and \'Tell Me\', getting just about as much of a positive reaction as he did when his stage design lifted both him and his decks off of the stage. Sunday was nothing short of amazing. Closing off the festival with deep AC Slater melodies and then jumping our hearts out at Valentino Khan and 4B\'s sets at the Heineken, Sunday was an amazing wrap. We were also able to catch some of Bro Safari\'s set, but overall the music that I got to experience at Coachella was beyond incredible.
Thanks to EDM Chicago and my amazing team that I work, we were able to get some amazing exclusive interviews with Autograf, Lost Frequencies, Travis Wild, just to name a few. Be sure to stay tuned for those next week.
The photos displayed were taken by the one and only Adolfo Kahan : http://www.adolfokahan.com/
[foogallery id=\"37374\"]