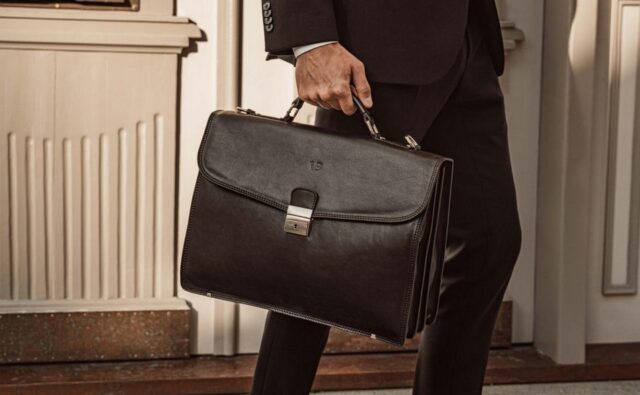 There are many kinds of men's bags in different styles, shapes, and colors today. But briefcases and messenger bags stand out from the rest for many reasons. They're distinctly made and each has its purpose. Both bags have long been considered useful to men because of their spacious structures. If you want to know which man bags you should get, keep reading this post.
Choose Your Bag Wisely
When choosing what bag will fit you, experts such as Von Baer weigh in. As Albert from Von Baer explains, choosing the right bag for the right occasion can make a world of difference in your appearance and functionality. Other factors are involved when determining the right bag for you, such as comfort. The type of bag that you want and need should be comfortable to bring and use. It's best to try bags on before buying them.
Ask the following questions regarding the bag. How does it feel when you carry it? Do you want one with handles or a shoulder strap?
Like every individual, bag designs come in various forms. Whether you're a briefcase or messenger bag type of person, there's a perfect bag for you out there.
Continue reading the discussion concerning the two different bag types below.
Briefcases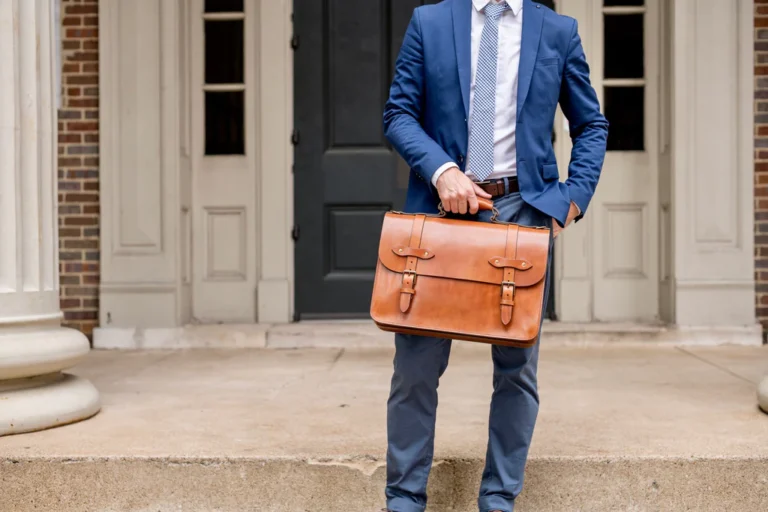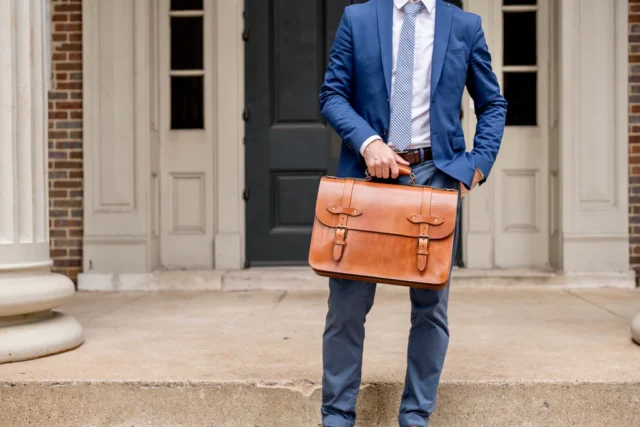 If you're the type who fancies timeless classic pieces as your outfits, you'll find that they pair well with leather briefcases. Sophistication is used when describing suits that border from professional to dapper.
Briefcases can accent what you wear depending on their style and color. Yet more than their appearance, leather briefcases are functional accessories that house your laptop, smartphone, documents, and notes in absolute style. With briefcases, you'll never have to worry about being organized because they have suitable compartments for your things.
Leather briefcases are also versatile. They can hold pieces of clothing when you need them for travel. From conferences to seminars, you don't need to worry if you have a briefcase with you. A briefcase is your best bet to emit professionalism, style, and confidence.
What To Look For In A Leather Briefcase
There are many kinds of briefcases on the market. Here are some considerations when choosing one.
• It Must Be Made Of Good Quality Leather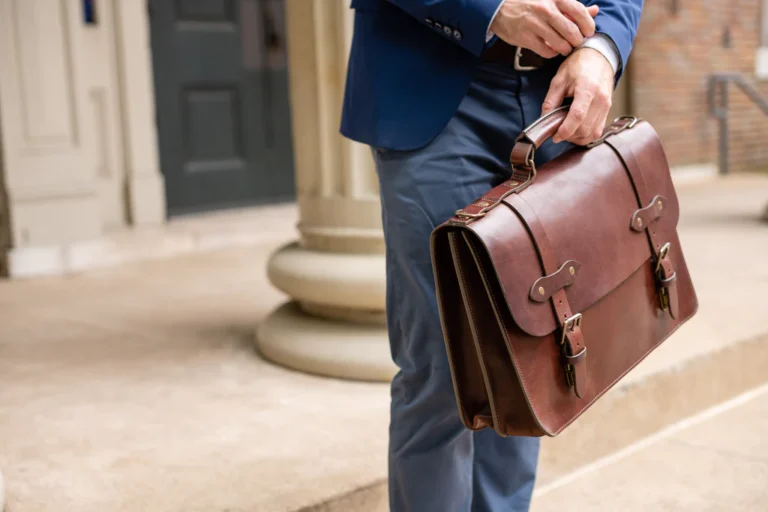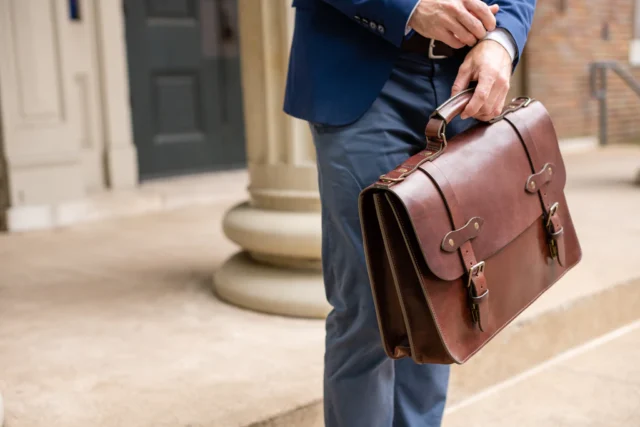 There's just something about good quality leather that feels reassuring. Good quality leather is something that'll still look good for years. Cow leather has a unique capability of turning into a darker shade, and the patination becomes attractive the longer the leather bag is used.
High-quality leather has a classic and vintage look, sleek and confident, resilient, and has a scent that befits masculine ruggedness. For the toughest leather, look for full-grain leather. Meanwhile, split-grain leather is thinner but less strong than full-grain.
• Amount Of Compartments
Leather briefcases are flexible and designed to be spacious to store all of your belongings safely. Ensure that you go for a briefcase that has a sufficient number of separate compartments to meet your storage needs.
• Size And Weight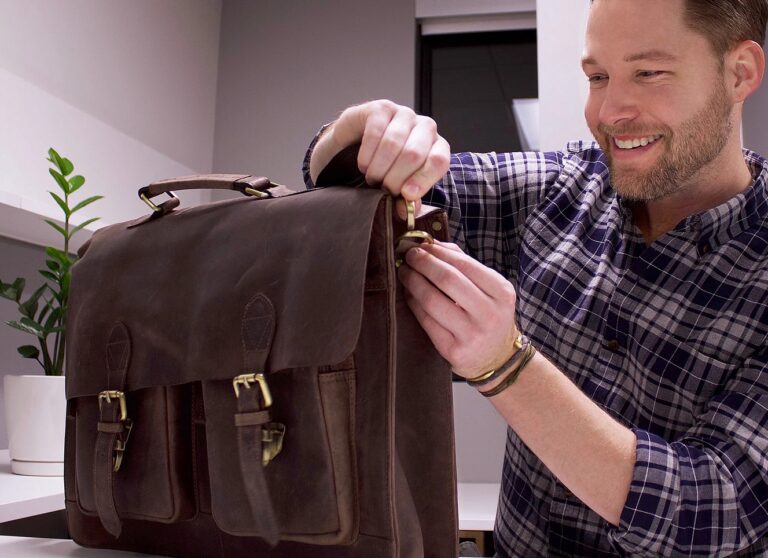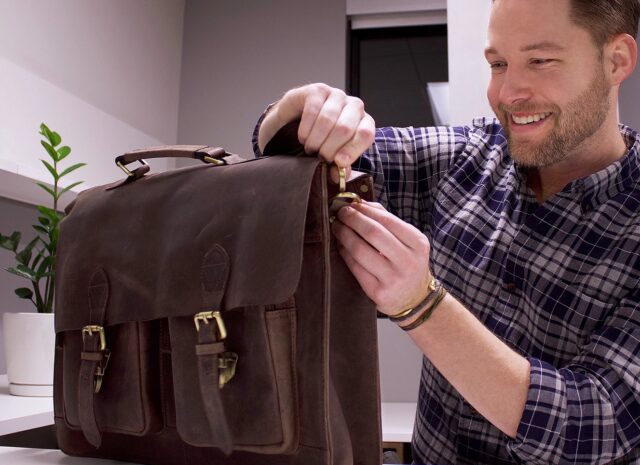 The briefcase's size and capacity matter a lot. You'll need a larger briefcase when you have a lot to pack. When you're not bringing much to your university or the office, use a smaller one instead.
Regarding the bag's weight, the thickness of the leather contributes to it. The best kind of briefcase bag is one with lighter leather that can protect your belongings.
Leather briefcases can be your best friend because they're built for the person who wants style and functionality. Can the messenger bag keep up with it? Find out below.
Messenger Bags
The messenger bag style has existed since the mid-19th century yet became a style staple in the '90s. Modern messenger bags cater to various tastes of man bags.
The messenger bag typically has a rectangular shape with a wide strap of varying lengths to wear across the torso. The main compartment has a wide flap or buckles to keep your belongings safe. They're meant to be broad so that you can store more items.
You can be a student, a business person, or anyone who works independently in the city or suburbs and enjoy the wonders of using a messenger bag. The messenger bag is comfortable to wear because it's lightweight.
A messenger bag can be casual to be used for streetwear or be professional-looking because it's made of leather. Thanks to it's durability, the messenger bag is one accessory that'll be very useful to you in various stages of your life.
Considerations When Choosing A Messenger Bag
There are a lot of messenger bags out there. To choose which one's the best for you, keep in mind the following considerations:
• Appropriate Bag Size
Is there a perfect-sized messenger bag? Your comfort level is still at play here, but you can look like a mail carrier delivering someone's mail with a bag that's too big. Yet a smaller messenger bag will rob you of the space you need to carry your things. It's recommended that if you want to fit all of your daily items, aim for an A4-sized bag.
• Bag Versatility
If you want to use a messenger bag even in the office, choose one that'll complement your dress and match it with the formality of your workplace. Look for shades of colors that'll look good with your shoes too. If you dress in a business suit at the office, your messenger bag should look simple and sleek when paired with it.
• Bag Material
Messenger bags can be made of materials that come with different implications. Further, the bag material can even match the style of the person wearing it.
Casual fabric messenger bags are lighter. The lighter fabric allows you to wear them in various designs and colors. On the other hand, leather messenger bags look professional and can be worn in formal work settings.
Both briefcases and messenger bags are great accessories that can be both stylish and functional. You can choose one or both to suit your storage needs, as well as fit your fashion and lifestyle.
Takeaway
Briefcases and messenger bags are man bags that both retain an appeal and style that most men today want. Both bags can be made of leather or any material and can complement what their user wears. Additionally, briefcase and messenger bags can protect their owners' belongings thanks to their durability.
If you're on the fence about which bag you want to purchase, check out the post above for guidance.