Sydney is the largest city in Australia and is a fantastic place to live. When you think of Sydney, you probably have two associations first. The first is the very high standard of living and the fact that for decades it has been considered among the best cities to live in the world in every aspect. And the other is the Opera House, which is the main and most famous landmark of the city. It is the city in Australia that offers the most business opportunities and the greatest opportunity to make money.
The Australian Stock Exchange is located in Sydney and all this affects the fact that the economy of this city is extremely developed. New people are constantly immigrating from all over the world and further influencing the diversity of Sydney's population. Several tens of thousands of new residents move in each year. The truly cosmopolitan city. It has a lot of cultural events, but it is also known as the culinary capital of Australia. So we will present you the best food festivals and venues where they take place. You don't want to miss some of them when you find yourself in Sydney.
1. The Smooth Festival of Chocolate
Venue: The Rocks
Is there anyone in the world who doesn't like chocolate? We think that such a person does not exist. It is even better when you have to eat chocolate at the event which takes place in such a beautiful place like The Rocks. It is one of the most beautiful parts of Sydney, where many events take place and is one of the first places that tourists visit. As you look toward the Sydney Harbor Bridge, you will enjoy the tastiest and highest quality chocolates in the world.
Every year over a hundred thousand people visit The Smooth Festival of Chocolate. Lindt, a Swiss company, perhaps the largest chocolatier in the world, are the main exhibitors at this festival. Along with them and many other famous chocolatiers, there will be dessert chefs of some of the best restaurants in Sydney and Australia who will make the most beautiful cakes live.
2. Good Food Month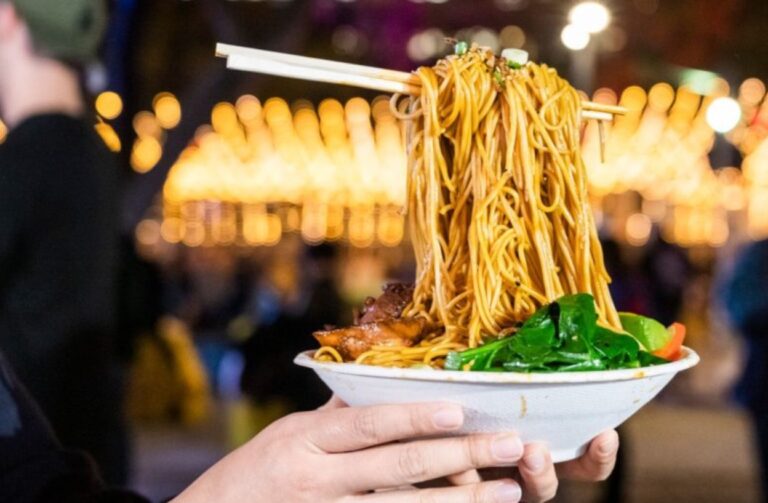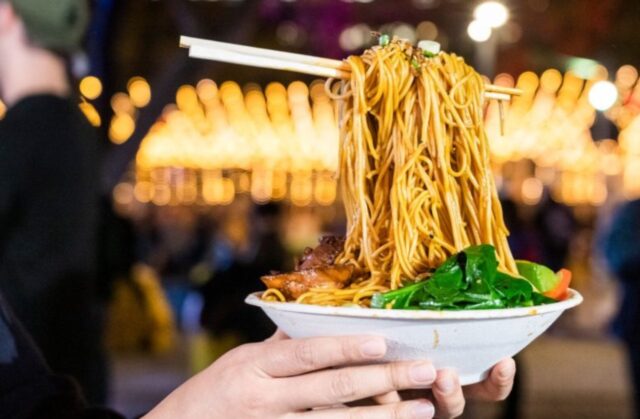 Venue: All over the city
This is a month-long food festival not only in Sydney but also in some other big cities in Australia, like Melbourne. The whole month is dedicated to enjoying food and wine. The best Australian and world chefs gather here to prepare a variety of delicious dishes. Events will be held throughout the city, from famous restaurants to various outdoor events all the way to Night Noodle Markets which take place in Hyde Park.
3. SACS Food & Wine with Christmas Market
Venue: St Andrews Cathedral School
It is maintained on the rooftop, so a beautiful view is available throughout Sydney. A huge selection of dishes, desserts and wines is available and is held every year. It attracts a large number of people but also tourists. Also, the prices are not too high but very reasonable for the Sydney standard. The price of the ticket that you can buy online includes dinner, and only wines are charged extra. Great event as you prepare for Christmas.
4. Bankstown Bites Food Festival
Venue: Bankstown
A real pleasure for all gourmets will be a visit to this festival. It is being held in Bankstown, a suburb of Sydney, and this year marks 15 years since the festival was first held. Every year a famous chef is a guest, cooking demonstrations are held and you can try a variety of dishes. It's just up to you to go from one booth to another and enjoy the food. Visit here to find the exact address of the Bankstown Bites Food Festival. It takes place every July, so make sure you don't miss it.
5. Ferragosto Italian Festival
Venue: Five Dock
It is fair to say that Italian food is probably the most popular food in the world and that there is no place in the world that is not widespread. Ferragosto is a traditional Italian festival that has been celebrated for over two thousand years. The Ferragosto Italian Festival held in Sydney is inspired by this, and the Five Dock, one of the suburbs, was chosen for the venue because it has many residents of Italian descent.
That is an ideal place to find endlessly offer of delicious Italian dishes. From various types of pasta to pizza and desserts, such as cannoli, you will find it all here. A huge number of stands have the most diverse offer, and while you go from one to another and try various delicacies, you will also have the opportunity to see various hand-made merchandises.
6. Cake Bake and Sweets Show
Venue: Sydney Showground
A show for all those who can't resist sweets. It is first held in Melbourne and then after a few days moves to Sydney. You can try a variety of cakes and pastries. You will find a variety of types because they are prepared by people from all over the world. But that's not all. This is an ideal place for all candy lovers, who are enthusiasts and want to learn to prepare some of it themselves.
Various master classes are held by prominent pastry chefs. You can learn how to make cakes and pastries, and also how to knead different breads or how to decorate cakes, the way you watch on TV in shows like "Cake Boss".
7. Sydney World Rice Festival
Venue: Moore Park
Rice is responsible for feeding billions of people. It is eaten everywhere in the world, especially in Asia, where it is also used as a main dish, as an addition to some other dishes or as a dessert. Since Australia is close to Asia and has a lot of immigrants of Asian descent, the World Rice Festival is held in Moore Park, a suburb just two miles from downtown. On many stands you will be able to try everything that contains rice. From Spanish paella, through Asian rice dishes to desserts such as rice pudding. You will also have the opportunity to try drinks made from rice such as Japanese Sake.
Conclusion:
If you are a gourmet, Sydney is the right destination for you. Don't miss these interesting festivals where you will enjoy.