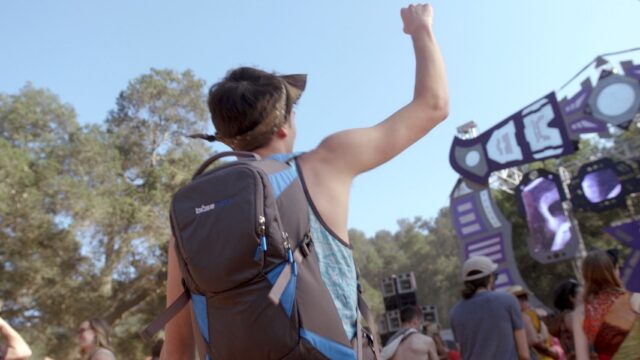 There's no shortage of innovation when it comes to building products around music. Baserock aims to be more than just a product, rather an experience for music lovers and adventure seekers alike. The company behind the new, versatile hydration backpack that allows wearers to physically feel music by vibrating bass frequencies throughout the body, will launch a Kickstarter campaign beginning Tuesday, June 13th.
"We designed the Baserock to optimize our physical experience of bass frequencies at music festivals," said Jared Becker, Baserock Co-Founder and CEO. "We didn't expect our launch community to start using Baserock in so many different ways and places. On hikes, at work, on the slopes, walking downtown, mountain biking, you name it, and our community took it with them. We realized that we had built something so much more than a music festival backpack."
Check out the experience that comes with owning the backpack
The state-of-the-art backpack can be used with laptops and phones and has a microphone that picks up on sounds. It runs on an eight-hour rechargeable battery and has an easily accessible user interface on the shoulder strap of the backpack.
Baserock is designed for the active, immersive lifestyle, complete with a 2-Liter hydration reservoir, two large storage pockets and five secure zipper pockets organized in a compact 19-inch water resistant backpack. Baserock can be used in a variety of different ways, whether it's going to a 3-day music festival or biking down the mountains.  We can't wait to see what else comes of this unique product, and the community it will generate.
Visit their Kickstarter campaign now and get 40% off your purchase.