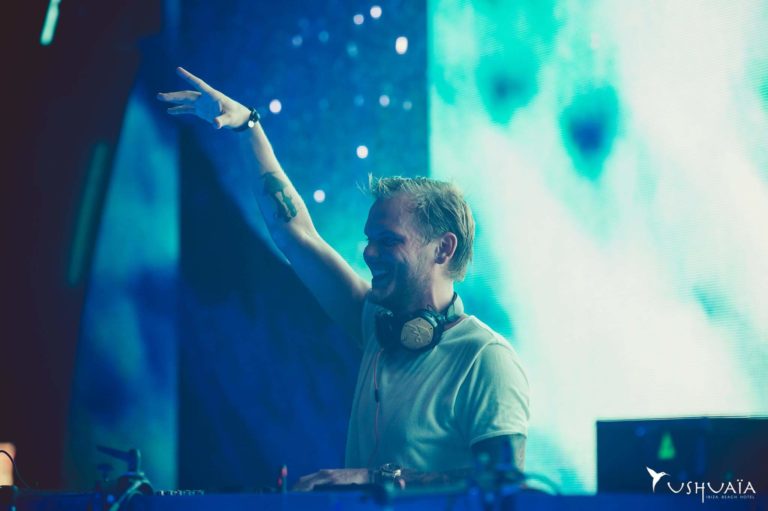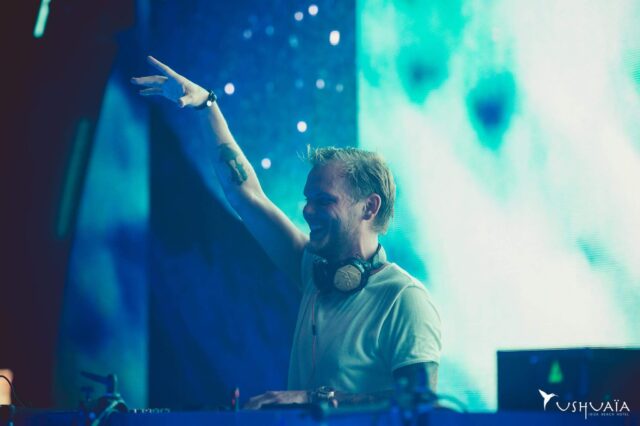 Avicii shocked the industry with his retirement announcement earlier this year. Exactly a month ago today on August 28, Avicii retired from touring for good at Ushuaïa Beach Club in Ibiza, Spain. Ending his \"Won\'t Be Right Back\" tour at the home of world-famous parties, discos, and impeccable white beaches, Avicii chose the best of the best locations in the world to close out a legendary and iconic stage career. EDM Chicago was there for this historic night on the White Isle.
The day began with a flight over the azure waters of the Mediterranean, landing on the salty-aired tarmac a quick cab ride away from Ushuaïa in Playa d\'en Bossa. Immediately upon leaving the airport, billboards announced the last show, with a \"thank you for the last five years\" message. Right on the beach, an Elysium of palm trees, hot summer air, and sea breeze, Ushuaïa is the finest beach club in the world. A stop at their official merchandise store gave us a chance to purchase items from the Avicii H&M collection. The beautiful señoritas tending bar gave more attention to those of us who made a point of speaking Spanish, and introduced us to the delights of authentic Sangria and Spain\'s answer to Red Bull, Burn.
Opening Acts
The show began with several sets from up-and-coming acts, but the party didn\'t truly start until sunset. As twilight enveloped the island, Seeb took the stage to his megahit collaboration with Mike Posner, \"I Took a Pill in Ibiza.\" The crowd screamed in appreciation of this ironic and full-circle moment, as several years before Posner indeed met Molly at the Avicii residency! A quick trip backstage gave us a chance to meet one-half of Seeb and get a selfie with KSHMR just as he rushed on stage to begin his set.
Truly crowded by this time, the club was packed, bodies pressed together almost to the point of discomfort. But KSHMR rocked Ushuaïa with an epic set that was more akin to a sweeping movie than a DJ show. The video screens showed an Egyptian narrative weaving each song together, with lights and effects entrancing the audience. Banger after banger got us revved up for Avicii. KSHMR referenced the significance of the night and his own gratitude.
If my show with @Avicii is truly his last… I guess I am both honored and heartbroken

— KSHМЯ (@KSHMRmusic) August 27, 2016
Avicii Takes the Stage
Stage hands set up for Avicii and as the lights dimmed, the crowd erupted as the opening notes to his new song \"Without You\" began, the poignancy and new meaning of the lyrics not lost upon us. Playing hit after hit, Avicii was in jubilant spirits. Anyone could see how glad he was to be there, and just how well he responds to the energy of the crowd. It\'s not surprising he became so famous and successful in only five years. He can play, and plays well, never lagging and never leaving a note wasted. He has a preternatural gift for imbuing every melody and lyric with such emotional weight and power. We felt uplifted and emotional, especially during universally loved songs like \"Wake Me Up,\" as confetti rained upon us in a euphoric wonderland of progressive house.
\"One more song!\" the audience chanted as the show came to a close. \"Levels\" may be treated as a meme by some, but when the iconic \"oh oh sometimes I get a good feeling\" thundered through the club, with planes arriving and departing from the airport overhead, no one present could deny how iconic, genre-defining and impactful that track is. Green lasers enveloped Avicii as he waved his hand to the melody, and the crowd was awash in the lights and stage effects. It is not unreasonable to claim the moment was transcendent.
When the show ended and the lights came on, Avicii walked on stage as the crowd chanted his name. Fans from all over the world were cheering him on one last time. He thanked us for coming, shared his gratitude to his team by taking a group photo, and smiled as he stood looking at us all. And then, he was gone. We exited onto the streets of Ibiza, and took a disco bus to the Old Town. Watching the sun rise over the port from a medieval fortress, we couldn\'t help but be thankful for participating in a moment of music history in a magical place.
Avicii\'s Legacy
Avicii retired from live shows because he wants to rediscover who Tim Bergling is after being Avicii the superstar DJ for so long. At age 27, he is entering a time when maturity has come and youth is still present, but the importance of spending that time on things which have meaning to you becomes crucial. He knows that making music, not necessarily performing it, is his true vocation in life. We kept thinking about this during the whole night, and the smile he flashed many times was partly one of enjoying the night but also one showing a deeper satisfaction at ending something to begin something else.
Avicii turned music into a brand, licensing hotels, clothing, drinks, even condoms. He made money off of his work and cannot be faulted for the commercialization. Any corporation would do the same, with negligible effect to the quality of their product. Avicii\'s art will stand the test of time, and he will continue to evolve his sound. For example, the vitriolic reaction to his 2013 Ultra set was in hindsight very off-base, considering how so many DJs have mixed live instrumentation with their sets. If Madonna had to suffer undue criticism to pave the way for modern female pop stars, in the same way Avicii turned EDM from a genre people didn\'t know about, understand or laughed at, into a real, valid, global art form.
Long live the king.