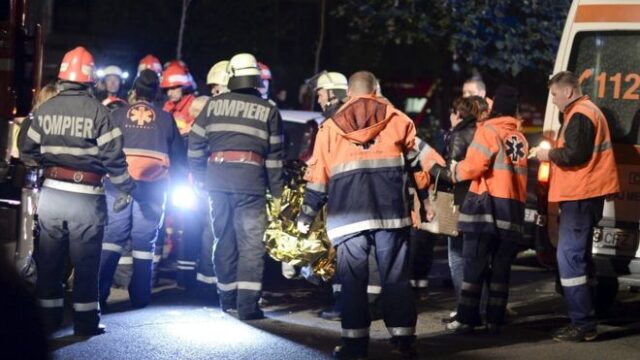 Tragedy struck Bucharest, Romania this evening when Colectiv club burst into flames, causing 27 deaths and dozens more injuries.
155 people are being treated in the hospital at this time for injuries including burns and smoke inhalation according to emergency response chief, Raed Arafat.
Some reports at this time have said the cause of the blaze may be due to fireworks being launched inside the club. Witnesses saw a spark on stage where a band was performing which then ignited some of the decor, leading to one of the pillars in the clubs ceiling catching fire and an explosion.
\"People were fainting, they were fainting from the smoke. It was total chaos, people were trampling on each other,\" Victor Ionescu, who was at the club, told local TV station Antena 3.
According to local journalist Sorin Bogdan, the club that was once a factory only had two small exit doors, one of which was locked.
The estimated 400 people inside the club had to use one of these doors, with the second being broken down.
Romania\'s President Klaus Iohannis wrote on his Facebook page that he was \"deeply grieved by the tragic events that happened this evening in downtown.\"
He added: \"It is a very sad day for all of us, for our nation and for me personally.\"
Via: BBC