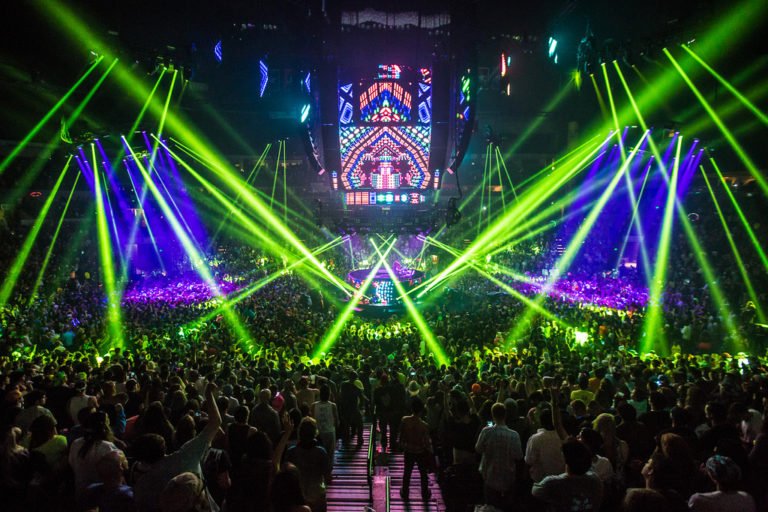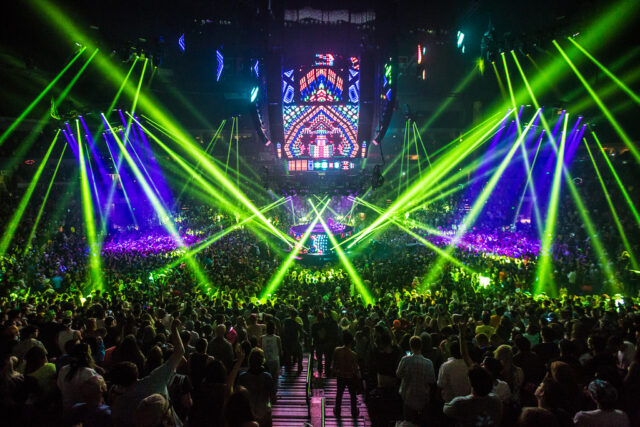 Are you as excited as we are that 2016 is dying out? What, with Trump\'s destruction all of political decorum as we know it; news of the federal government infringement on citizens\' rights to protect corporate pollution for profit; and the general realization that time is nothing but a made up construct, an illusory concept based in the movement of the sun and stars around the earth, used to gauge the seasons and later on control our everyday lives.
And it\'s right then, when we\'re at our most unhopeful… deep in the thick of our usual holiday stuffing and depression, where we thought eating and buying our our way to happiness would fill some existential void that we are nothing more than tiny dirt specs in the universe… that we are again reminded of the very thing that keeps us going: Music.
Sorry for the diatribe, there\'s just something about NYE that brings a sense of joy and relief. A clean slate. Being together in music. It makes all the other stuff mere background noise. So, we\'ve compiled our TOP TEN picks across the U.S. for where you should be be celebrating when ringing in NYE 2017.
1) SNOWGLOBE; Lake Tahoe, CA
With heavy hitters like The Chainsmokers and Major Lazer on the bill this year, NorCal\'s premier festival continues to make a statement. The SnowGlobe Festival is a one-of-a-kind experience that offers the ultimate fusion of music and mountains.
Featuring multiple stages and (at least for now) a smaller, more intimate crowd, the line-up at SnowGlobe is sure to satisfy thousands of music fans, skiers, and snow boarders alike. With multiple world class resorts within short distance, where else can you catch some heavy bass from Flume and RL Grime while shredding some gnar gnar, bro? That\'s right, no where but SnowGlobe.
The most attractive aspect of this festival, perhaps, is how meticulously well slated the line-up is from year to year, aimed toward drawing in a niche crowd by paying close attention to how each artist\'s sound matches the snowy vibes of the festival. Think about it: the chimey synths of ODESZA and RÜFÜS DU SOL meets the wonky bass and future melodic of Mr. Carmack and Illenium. What more could you want?
Peep the line-up and check out ticketing/event info below.
\'
Buy Tickets. Join Facebook community and/or event page.
2) PRETTY LIGHTS; New Orleans, LA
It\'s the Analog King\'s big NYE 2-night run. And after the impressive multi-phased, bicoastal tour that Derek Vincent Smith managed to pull off this year, there\'s little doubt in our minds that Pretty Lights Fam will likely sell this one out.
Featuring support from the likely prospects, Manic Focus and Emancipator, it\'s mind boggling to imagine the sort of audio-visual journey another extended Pretty Lights set is going to take these folks on. One thing is for certain: It\'s sure to be a retro-future travel through sound and space.
Here\'s the best news ever for those who are still mourning the loss of BassLights in Hampton, VA. You can even catch Nectar the next night, since Birmingham is just a hop, skip, and a space-time jump away. That\'s right, the fun has officially moved out of the Northeast and into the Deep South, y\'all. All aboard the mothership!!
Join the Facebook event. Buy Tickets.
3) BASSNECTAR NYE360; Birmingham, AL
With line-up support from Gramatik, Joker, and The Librarian, the nectar of the bass god is calling his usual freaks out to Birmingham for a second year. Equipped with pre-parties and after-parties from the likes of Ill Gates, Greg Jones, and The Widdler, you\'ll be up to your ears in weird alien noises this weekend. Lorin truly pulls out all the stops for 360.
Just try and imagine it: a 360-degree revolving stage under a multi-directional backdrop of LED panels. I know, you can\'t. Because you have to be there, to see it, to believe it.
\"There\'s no place home, there\'s no place like home…\"
Become the Facebook event. Stands tickets still available here.
4) DECADENCE NYE; Denver, CO
The decadent city of Denver is calling it\'s citizens back for another year of what has consistently been one of the most stacked NYE line-ups in the country. It seems 2017 is no different. Because where else can you expect to catch Bassnectar gracing his loyal Colorado family with the nectar of the bass god.. Then turn walk to the next stage to the dark and blissful heavenly house of Eric Prydz… Then get the party going with those goons The Chainsmokers?!
Assemble the rave fam, and teleport yourselves to Downtown Denver. And don\'t forget to put on your light-up walking shoes, because this convention center style massive is the definition of just that: Massive.
Also don\'t overlook the vendors, silent disco, and interactive art installments. This event has all the things that make an outdoor festival great, inside. You\'ll thank them for it too, because Denver has a way of always reaching subzero temperatures around this time.
Buy tickets. Enter The City of Dreams on Facebook. Also, be sure to check out their satellite Decadence event in Arizona, featuring deadmau5, if you like your NYE a whole lot warmer.
5) REACTION NYE; Chicago, IL
Thanks to the the minds behind Spring Awakening and Freaky Deaky, Chicago continues to have big-named EDM festivals brought right to our doorstep. Reaction NYE features the likes of Flume, Zed\'s Dead, Dillon Francis, and Tchami atop the bill. React consistently promises and over delivers on every one of their events, and this one is bound to be no different.
Limited tickets are still available. Join the Reaction NYE Facebook group for more info.
6) STS9 PRESENT: LIGHT YEARS; Denver, CO
As if there wasn\'t already enough to do in Denver. You\'re sure to find the loyal Tribe following at The Fillmore for their special 3-night run, Light Years, which will be an interlude to their new album. It\'s meaning is both literal – the distance time travels in a year – and the thread of memories that together form the perception of a particular time period. It highlights NYE as a time to reflect on the past and manifest the future. Now doesn\'t that just sound like a heady ass good time?
7) LIGHTS ALL NIGHT; Dallas, TX
We know Dallas loves their house music, but put RL Grime and 12+h Planet on the bill, and watch the bass heads come crawling out of the wood works. Lights All Night delivered this year with yet another well rounded line-up at this 18+ event. Add in A-trak, Feed Me, and Cazzette, and exciting newer acts like REZZ and Totally Enormous Extinct Dinosaurs and we\'ve got ourselves a NYE event for the coveting deep in the heart of Texas. Also, be sure to check out LAN El Paso below.
Purchase tickets.
Like LAN on Facebook.
8) RESOLUTION NYE; Seattle, WA
Listen. If we could clone and transport ourselves all over the country for NYE events, we would. So let\'s get on that future scientists of the world. We\'re looking to you Pacific Northcoasterners, with your fancy gadgets and your coffee drinking, forward thinking, free spirited ways. While you\'re at it, don\'t forget to catch Resolution NYE because we all know music inspires science. We expect to able to transport our body consciousness fields to Seattle by at least the end of 2023 for Resolution NYE. This one is a solid one day line-up, which we can see becoming a two-day event down the road…especially with a name like USC Events.
9) GRiZ LIVE; Ashville, NC
Fresh off his Good Will Prevail Tour, GRiZ aka the man Grant, is excited to announce his first ever True GRiZ NYE Family Funktion. They\'re calling it, "THE GET DOWN," and G-Jones, Papadosio, and Freddy Todd are set to join in as support.
And if you made to a stop along his tour then you know it\'s about to be filled with love, positivity and good vibes. We can\'t say enough good things about the kind of following that Grant has cultivated around the sexy sax.
Join the fun on Facebook. Grab tickets here.
10) Countdown NYE; San Bernardino, CA
Tick tock goes the clock, where will you be when the beat drops? Insomniac is trying to make the case for you to ring 2017 in San Bernardino at their 18+ New Year\'s Eve celebration! The line-up is jam packed full of some of highest-profile headliners, as is the usual case, along with the production quality to match.