Imagine that it's your wedding day, and you have the most beautiful attire. You are all set to walk down the aisle, but oh! suddenly, you remember that you must wear the longest inch of heels underneath. It hurts harder when you never want to wear heels on the most important day of your life.
The pain will be the same if you are a guest at a wedding. Walking up and down the wedding venue wearing heels is not role-specific, whether you are the bride or the bridesmaid!
Though they are beautiful, they may not fall into the fashion space of everyone. It's completely fine!
So, if you are not a heel person, you need not worry. This article has got your back in a way no one else can!
Ditch your heels and help your foot with comfortable footwear that helps you run around the venue.
1. Ballerinas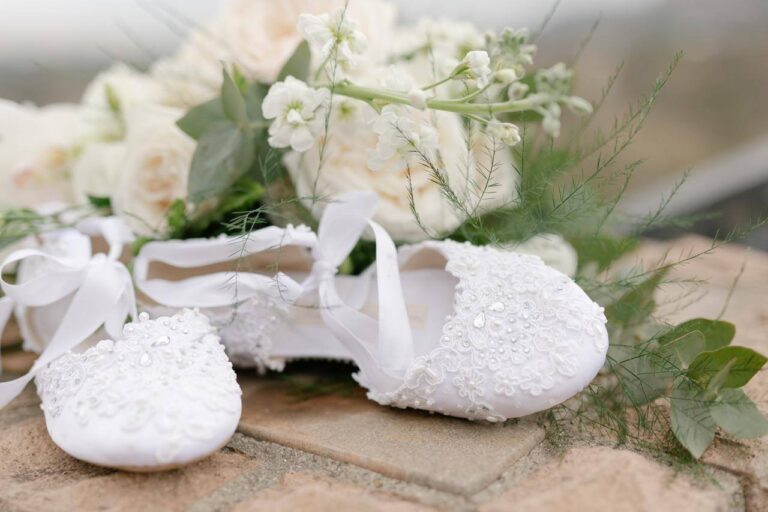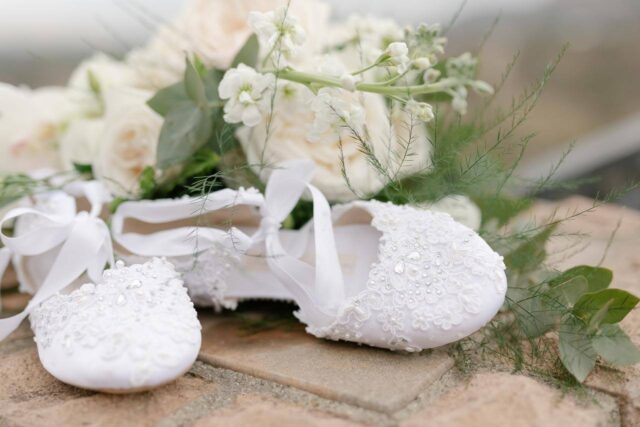 These need no introduction. Girls have seen the magic of ballerinas since childhood, thanks to the Cinderella story. Probably many girls would have thought of wearing similar footwear on their wedding day at that moment. The wedding is nothing less than the Cinderella story, where the heart beats race against time to meet the Prince with the bride wearing the perfect attire and footwear.
Ballet flats and their romantic description is indeed a compliment of pure comfort for brides and their festivities. It can be a pretty bow or moving along the curves with beads to stones. This beauty is such a treat to the eye. So much so that you won't be able to contain your excitement about wearing it on the big day.
Pro Tip: They are both comfortable and luxurious for brides who like to keep them low-key yet classy. You can go for the net designs and the overlapping straps on the top of the foot. These beauties are going to make your day.
2. Flats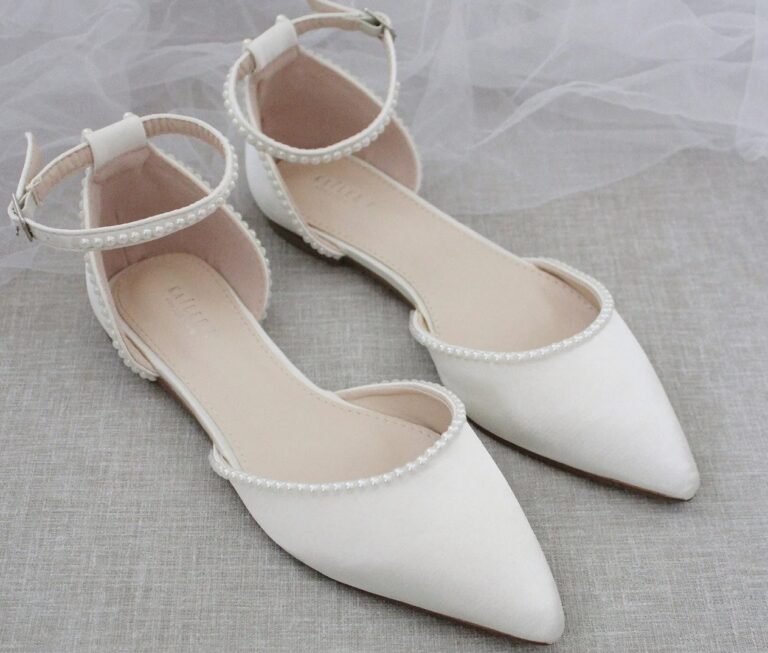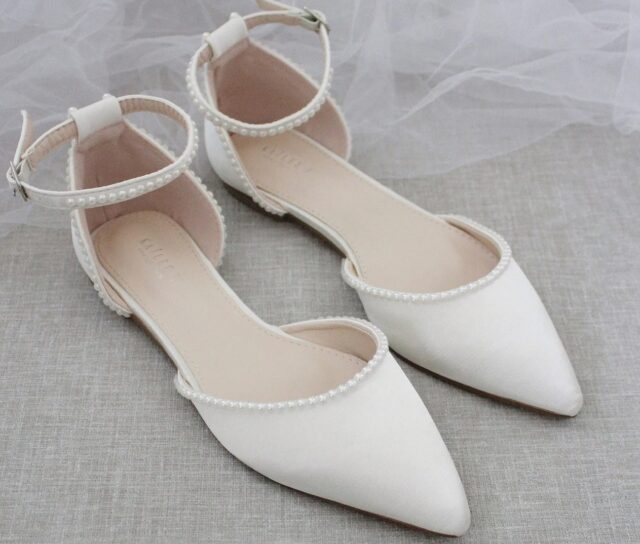 Flats and their variety are unmatchable. From open-toe flats to closed platform sliders to crystal-embellished mules, there are many things that you can go for under this category. The beauty of flats is that they are the perfect alternative to heels. They are designed to complement the look of the wedding attire in an ideal manner.
You can go for colors matching your outfit. A contrast combination is always the show-stopper. Also, you can consider switching to the basics, like white flats with golden or silver borders. Neutrals like beige and brown are winners for all those who like to go for such shades in their outfits.
Pro Tip: Flats are an indispensable option and the first choice for women after heels. You are still on the safer side, which is a basic step that will help you make a wonderful appearance at the wedding. Also, it is best if your feet swell after wearing heels, or you can take heels for a long time.
3. Sneakers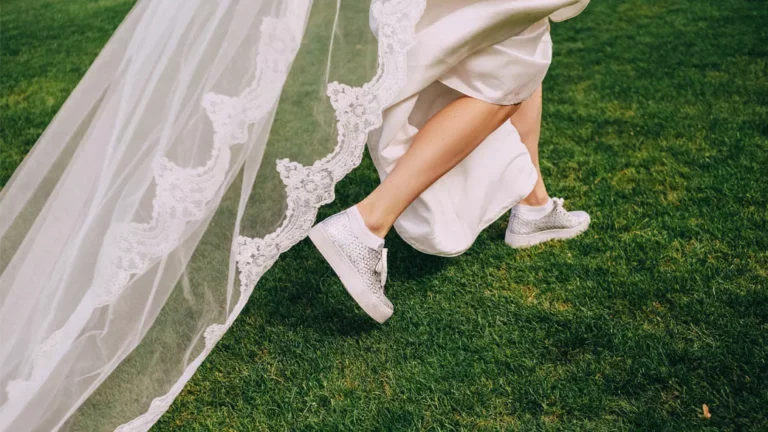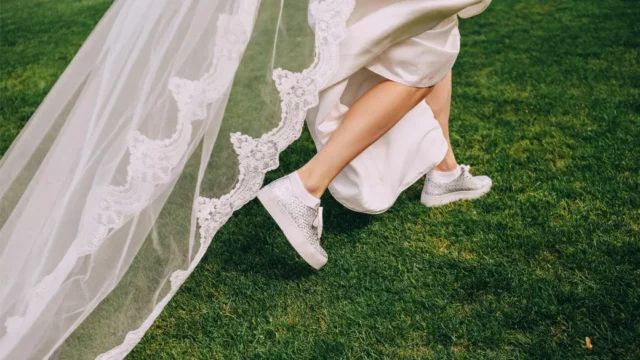 Talking about footwear and forgetting all the brides who have a thing for sneakers is not possible, for sure. However, if the only thought that stops you from wearing is whether they will go with your outfit or not and what people will think, the only thing that you should be bothered about is whether you want to wear them or not.
You might have seen Zendaya's picture wearing basketball shorts under her pretty shimmer dress. As surprising as it might sound, she was lauded over the internet as so many people could relate to it. That's the same with sneakers. They are covered and help keep your feet free from dust and pain during the festivities.
You can similarly go for sports shoes, cowboy and leather shoes, and boots that are smart statement pieces in the footwear wardrobe of all brides. If you are looking for a variety, you can consider visiting https://dreampairshoes.com/collections/womens-heels. Pro Tip: They are different kinds of sneakers with your wedding attire. It can be a classic white sneaker or a shimmery pair. Also, you can go for studded sneakers and exclusively keep them for wedding purposes.
4. Sandals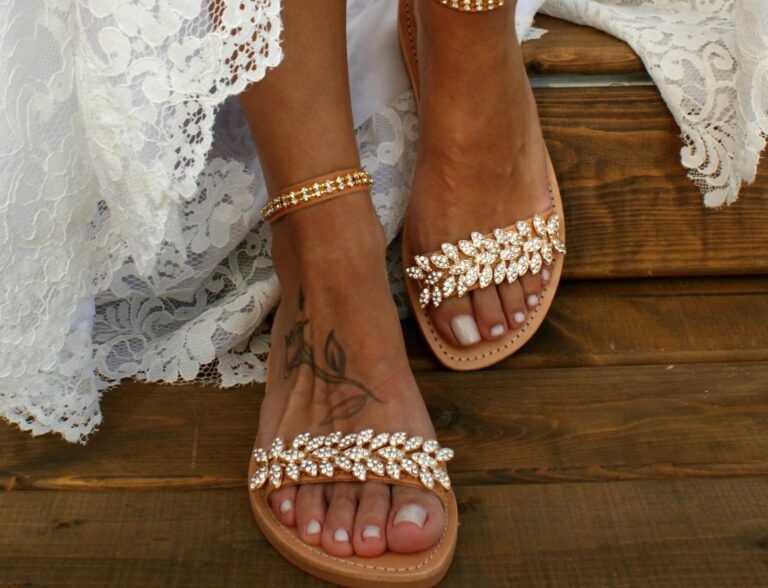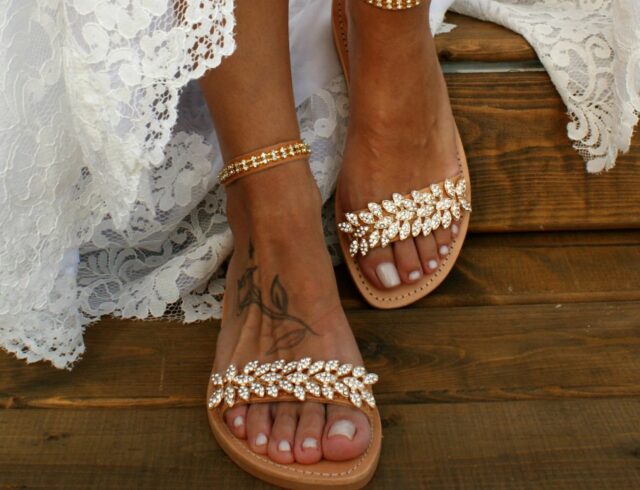 It is another gorgeous pick for the wedding if you don't want to wear heels. They come with an extra sole and a comfortable footbed that comforts the foot if you have to stand or sit for a long time. They are more on the simpler side, and their top design over the foot fingers and near the strap is good enough to qualify as pretty bridal shoes.
Sandals have kitten heels, and they make a perfect choice if high heels are just not the thing for you. Kitten heels are further available in the form of blocks and straight heels. Blocks are better if you walk on the ground for a long time as they have a wider surface area.
Pro Tip: You can pick sandals that are made from different textures. Slingbacks are an option that is available in flats and low heels. So, you have the option of considering it.
5. Loafers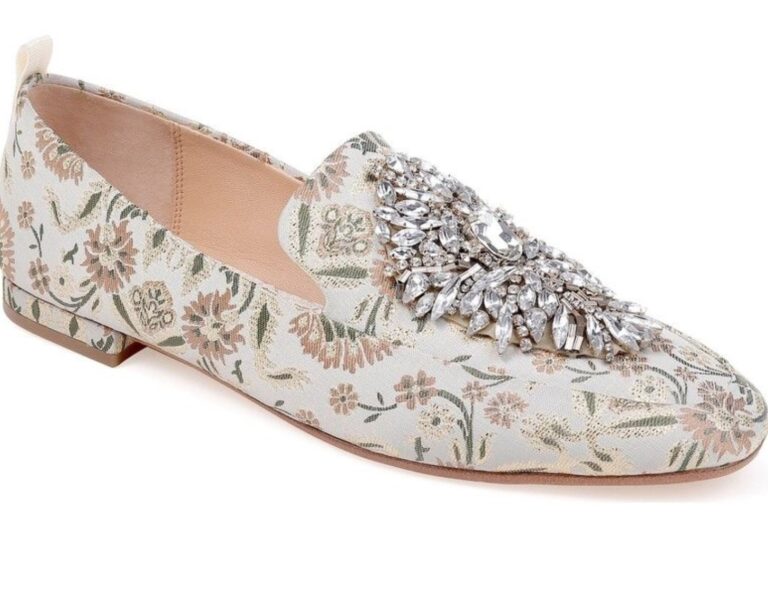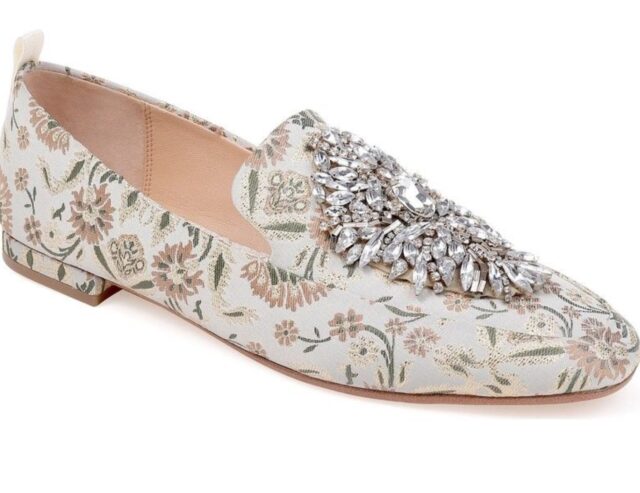 As seen on Hailey Bieber, loafers are a top pick for weddings. Keeping aside the immense amount of comfort they offer, they are a statement piece of footwear and a must for your post-marriage wardrobe, too. They are minimal, and their sophisticated design is the cherry on the cake.
Loafers are made of different materials, and if you want something exclusively for wedding outfits, you can go for leather loafers. Glossy leather loafers are smart, and they'll make you feel complete in case heels are not your option for the wedding. Also, wedding outfits are usually monochrome and add a pop of color to them.
Pro Tip: To your surprise, many brands go better on detailing, and that's how you can get customized loafers to match the wedding attire.
Tips To Choose The Right Footwear
Heels are not the only option to wear at the wedding. But, first, you got to know your style and what you'll love wearing at the wedding. Here are some tips or more questions you can ask yourself before making the final footwear purchase for the wedding.
Whether the chosen footwear can help you sustain all day long without pain, swelling, and scratches.
Whether you want to wear it for yourself or just for its sake.
Whether you would want to wear them in the future or not.
Whether they are worth the investment and in your budget or not.
Conclusion
If heels were never your to-go option while steeping out during weddings and several other occasions, you still have the chance of going for other footwear options. Nothing will change if you ditch wearing heels. It's not the end of the world.
Instead, you never know who falls in love with your fashion trend and draw inspiration from wearing footwear that makes them feel happy and comfortable and renders a feeling of belongingness.