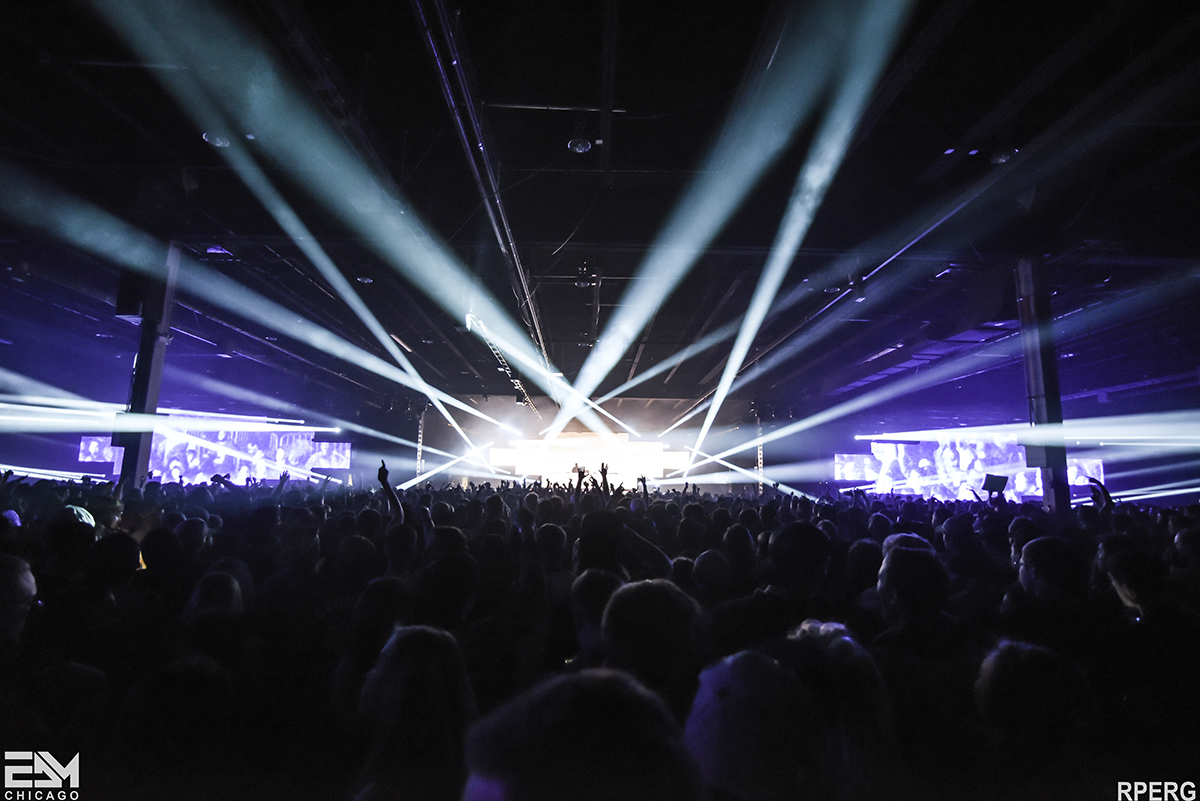 There\'s no shortage of parties to hit up on New Year\'s Eve weekend in Chicago. Whatever you\'re into, you\'re bound to find the perfect spot to celebrate. For those of us who love ground-shaking bass and the rapidly growing festival scene, Reaction NYE was the place to be this past weekend. React Presents continues to impress the electronic dance music scene with well-organized events that feature both big name headliners and local acts, as well as a solid balance of genres. This year\'s roster featured Flume and Zed\'s Dead as the main events with supporting acts like Dillon Francis, Gucci Mane, Tchami and Manic Focus.
With it being just the second time around for Reaction NYE, it was hard to know what to expect when walking into the Donald E. Stephens Convention Center for night one. Much to my surprise, security was a breeze to get through with plenty of lines to accommodate the flooding crowds. Once safe and sound inside, the fun began with a stop at The Warehouse Stage for Danny Brown. The Warehouse Stage is the event\'s main stage, which basically spans across the entire venue. The artist booth is in the center and has two huge screens for graphics accompanying each side.
Situated in the adjacent room are the Arcade Stage and the Silent Disco. The Arcade Stage once again welcomed fans with classic games and a slew of performances by artists like Chicago\'s very own Ingenue, SMIIRK and Milk N Cooks. The Silent Disco was a new addition to Reaction NYE and also featured up and comers, primarily from the Chicagoland area. With the event being held indoors, you'd think sound would leak from stage to stage but that wasn't the case at all.
Next up for me on night one was Dillon Francis, who most definitely stole the show in the graphics department. EDM's funny guy brought his A-game with clever visuals and an energetic blend of beats. Along with his noteworthy Moombahton singles that always keep the party going,  he played light-hearted favorites like his newest with Will Heard "Anywhere" and "Coming Over" (ft. James Hersey).
As I impatiently waited for Flume to take the stage an hour later, I decided to cruise through the venue to see what other attractions React Presents brought out for the two-day extravaganza. Aside from some live art installations and local vendors, the event was a little lacking for attendees looking to kill time.
Finally the clock struck midnight and we all squeezed up to The Warehouse Stage to wait for the Australian super producer. The stage went black with slow, ambient music filling the room. After what seemed like forever, the curtains dropped, Flume took the stage and the journey began. I've seen Flume a number of times and never cease to be amazed by his unparalleled passion for his music and his fans. The screens surrounding him featured aesthetic visuals that were coordinated with every beat and flash of light. The highlights of his set for me were his "Hyperparadise" remix and "Heater."
Day two kicked off with a long security line, as expected for New Year's Eve. Spirits were high, drinks were flowing and everyone was ready to say goodbye to 2016.
One of the artists I had been looking forward to most all weekend was Tchami and I couldn't have been more satisfied with his set. Over the past year or so, the French producer has blown up in the EDM world and stands out as a musician in both his style of music and showmanship. Known for his holy look, a cathedral-like setting was displayed on the screen behind him and he wore his signature clerical collar. The lights throughout his set are definitely worth noting, as they were unforgettable with a wealth of lasers.  This set served as a solid preview for what we can expect when he brings his Prophecy tour to Chicago in March with Mercer.
After wandering around at the Arcade Stage, getting drinks and watching some Gucci Mane, the time to ring in the new year was almost here. Fans packed The Warehouse Stage, counted down to 2017 and kissed the people next to them as confetti filled the room. There was still no Zeds Dead though. At about 12:10am or so, the moment we had been waiting for arrived and the duo hit the stage.
To say they started off strong is an understatement. The entire set was super bass heavy, and had some of the best lights I've seen in awhile. The setlist included their more popular hits like "You Know," "Lost You" and "Collapse" (feat. Memorecks) along with songs off their Northern Lights album like "Frontlines" and "Too Young." There was not a dull moment throughout the performance and it was sad to see it end.
Overall, Reaction NYE was an incredible time. While it had its downfalls, like drink prices and lack of food options, the roster of artists they perform can't be beat. Also, its convenient location to hotels and transportation was ideal for such a busy night. For its second time around, I'd say it was most definitely a success and it'll be exciting to see how the event evolves in years to come.
Check out the photo album below:
[foogallery id=\"45162\"]