Your outdoor space can use a bit of decoration to make a difference. Creative design in your functional spaces, like the backyard and patios, is beneficial.
For instance, a simple chair and table set incorporated with well-placed awnings for patio will instantly enhance the look of the outdoors. The added shade also serves the purpose of protecting your outdoor furniture.
However, before you start, you should be familiar with all the best tips for comfortable and stylish outdoor design. All the information you need to bring your ideal style to life is here.
Design to Boost Relaxation
Design always aims to solve problems or enhance users' interaction with a particular object. Of course, it includes aesthetics since it gives the most percentage of what the user can feel.
Before designing, ensure you are mindful of the following design principles:
Balance – pleasing symmetry or asymmetry.
Contrast and emphasis – highlight elements with colors, textures, and sizes.
Patterns – repeating, alternating, and gradual elements.
White space – creates a harmonious, uncluttered look.
Variety & Unity – avoid boring, flat design.
Another tip is that since patios are outdoor spaces, you can incorporate nature-inspired designs. Doing so will give your space the most visually pleasing and functional option. Also, consider interactions and activities to ensure the flow of your area is smooth.
Mix & Match Seats and Tables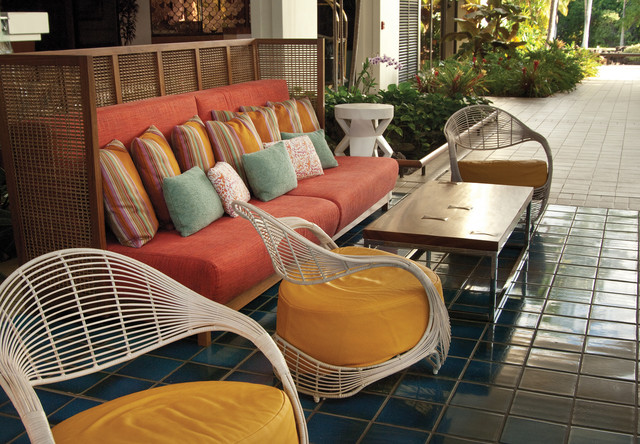 The seating and the surfaces need a sleek and inviting look. No matter what event you have in your place, you and your guests will want a pleasant place to rest your feet and set down some refreshments.
Benches & Chairs
Try combining bench seating with individual chairs to maximize space around outdoor tables. When it comes to hosting a large gathering, like a birthday or reunion, benches come to the rescue.
Sectional Sofas
A sectional couch, like the one in a living room, can also seat a large group. Add some variety to your patio furniture by moving around the fixed pieces.
Dining Set
Use a sizable dining table set if you enjoy entertaining guests at dinner and Sunday brunch and spending quality time with your loved ones while eating together.
Outdoor Bar
An outdoor bar and chairs are a great way to set the tone for a lively cocktail party. This modern setup will make a fantastic addition to your garden or patio.
Choose Efficient Awning
Protection from the sun and rain guarantees that your parties or gatherings can go on regardless of the weather. Choosing an efficient awning is based on what's best for you as a homeowner.
Retractable Awning
A retractable awning is the best option if you prefer to have sunlight shine through your windows for quite a while, such as during the winter.
If you love star gazing, retractable shades are also the go-to option. Nothing beats the beauty of the sky in a good climate! A bit of healthy sunlight is good for you and naturally sanitizes items on your patio.
Fixed Awning
A fixed awning is the best choice for you if you are too busy to take the time to set up or take down your patio shades.
Although automatic retractable exists, it can cost quite a buck. Unless you want to try that, you can invest in that kind of technology for a win-win situation.
In addition, choose a fixed awning if you want everything on your patio always to be shielded from the sun and any debris in any climate.
Bring It To Life With A Garden
Roll up your sleeves and get your thumbs green! Just two or more plants can create an atmosphere reminiscent of the great outdoors.
Natural Vessels
Plants are also a natural complement to materials that are found in nature, such as wood, wicker, stones, and clay pots. Plant a few hardy shrubs, trees, or flowers to lessen the strictness of an entirely bricked, concrete, or paved yard.
Recyclables
Plants also do well with recycled materials like tires and bottles, which you can hang! You can use it as is, cut it up, or paint it to make it better. This act can also spark up a conversation during get-togethers on your patio!
Artificial Plants
Those not keen on gardening can decorate their homes with lifelike artificial plants. But remember that a natural garden always boosts the life of those around it. Consider how nature can help the health of your family and the environment.
Warmth Of A Family With Firepits
Fire is the only thing that keeps the good mood going. The crackling and flames warm the room and give it a soft light. The soft glow will also look great with summer decorations. The good news is that popular outdoor fire pit ideas and alternatives can work with any style of patio.
Full-Stand Fireplace
In a large room, a grand fireplace is a worthwhile investment. In a room with a conductive floor, the heat from such a large source will spread far and stay there for a long time.
For instance, a stone patio and a fire pit perfectly match outdoor living. A stone fireplace ensures that the heat from the fire will spread throughout the room.
On-Ground Fireplace
Create a gathering place by installing a fire pit on the ground and furnishing it with chairs. The main feature can be combined with a built-in bench for additional seating.
Frequently, the width of the backrest makes it suitable as a snack table. You can make the setup cozier by adding a few throws and decorative pillows.
Portable and Multipurpose
You can't go wrong with a portable fire pit and a laid-back gathering place. A fire pit can serve as both a grill and a heat source. It's even more practical if it can be carried around easily.
Select a fire pit that can be easily relocated if portability is a priority. Be sure to wait until it has cooled before moving it. It is also a great choice if you have retractable fabric awnings which are flammable.
Final Touch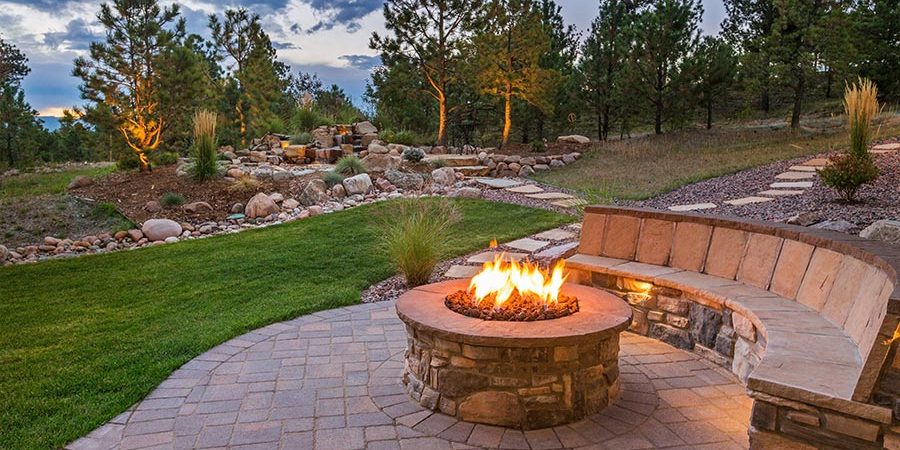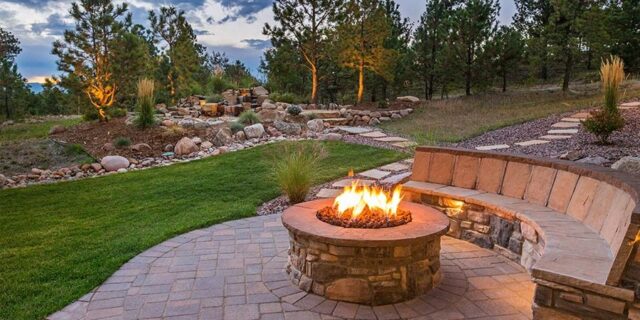 Create a list of all the activities you plan to enjoy on your patio, as this will serve as the foundation for your patio's design. Practicality is essential, even if grandeur is what you're after.
Additionally, it would help if you research ideas that resonate with you and then make a mood board that will help you visualize your thoughts. You can swiftly transfer your pictures to a professional if you seek assistance.