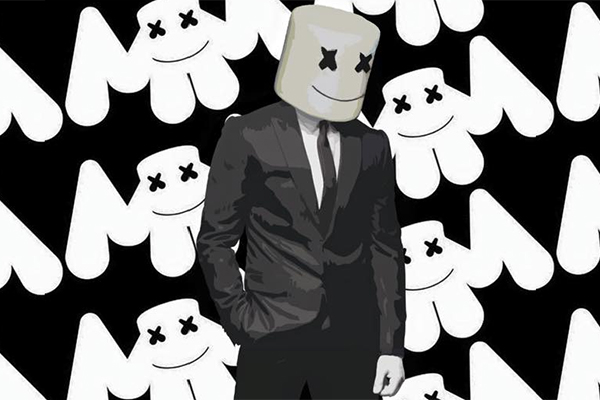 After Marshmello blasted onto the EDM scene around this time last year, the wild speculations as to who the masked marketing machine is continue. Theories have circulated that the mellow trap producer is Jauz, Dot Com, and even Skrillex himself; these speculations are surely warranted since Marshmello seems runs in these DJ circles. The only thing that industry insiders, music bloggers, and \"mello gang\" fans alike have agreed upon is this: Whomever it is behind the mask is a seasoned producer since Marshmello continually delivers crisp, clean tracks/remixes with a clear talent for production and a clear understanding for what direction he sees his commercial trap style taking.
One anonymous blogger, however, has just stirred the pot over Marshmello\'s identity with an \"oddly compelling\" theory that went viral today. The self-proclaimed \"Martin Garrix Fanboy\" presents several wildly unique visual arguments, which I have streamlined for our readership below.
(1) POSTURE
\"After liaising with several of Perth\'s finest photographers asking how hard it would be to copy a person\'s posture on stage, all of them informed me that it would be near impossible to be exactly the same, taking into factors like the person\'s height, weight etc. It would make having an exact identical posture odd.\"
(2) MONIKER & LOGO
The blogger then presents the following argument in his stream-of-conscious writing style: \"If my name was Martin and I wanted to make \"mellow\" trap music, what would I call myself…surely Garrix would have given us clues along the way? In several of his live shows there are many visuals that relay this concept, not to mention the timing of Martin Garrix releasing a new logo.\"
Need more proof? Take a look at their logos as each appears on their Instagram profiles:
(3) TOUR DATES
\"There was a couple of things to investigate now – did their tour dates ever clash? Easy – No they didn\'t, and if they did it was at the same festival at different set times. Initially everyone was made to believe it was Dillon Francis, which it turns out it wasn\'t, but bear in mind who is Dillon Francis good friends with? Martin Garrix.\"
Martin Garrix 2016 Appearances
(4) CLOTHING STYLES
The writer then asks us to consider the similarities in the two producer\'s choice of clothing color and the sneakers they wear on stage:
\"Put marshmello in black clothes who does he look like? Martin Garrix wears Nike Kicks/Air Jordans a lot. Have a look at what footwear Marshmello wears…\"
(5) GO-TO HYPE PHRASE
Finally, the author asks us to consider two live video performances, which s/he believes strongly lends itself to the belief that \"Martin Garrix and Marshmello are one and the same.\" Both DJs hype the crowd screaming, \"1, 2, 1-2-3 Let\'s Go!\"
Martin Garrix at Amsterdam Music Festival [Fast Forward to 16:56]
Marshmello at Hard DOTD [Fast forward to 5:05]
There you have it: The least likely person in the world, becomes the biggest suspect. What do you think?
The views here do no necessarily reflect on the beliefs or writers at EDM Chicago.
H/T Pile Rats