Braces and veneers are the most popular management option in cosmetic dentistry. Cosmetic dentistry is focused on the aesthetic of a smile and the symmetry of dentition. Veneers and braces are used to fix crooked/misaligned teeth, gap teeth and bite problems. Although braces and veneers share similarities, they are quite different.
Why are Braces or Veneers Necessary?
When it comes to getting a perfect smile, every person goes for the optimal solution to achieve it. Many people have misaligned teeth, which can be painful sometimes. It is quite challenging to brush or floss those teeth because of overcrowding.
Cosmetic dentistry comes with two fantastic solutions for people who want to get rid of such a problem and get a dazzling smile. Both treatments are perfect for aligning your teeth. You should prefer the braces if you have the following issues:
Difficulty in biting or chewing
Asymmetrical or imbalanced facial features
Lisp or facing challenges while speaking
Abnormal structure of teeth
Biting of tongue and cheek accidentally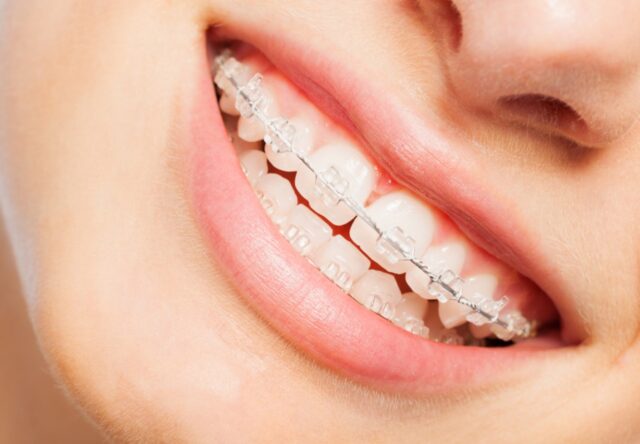 Braces
Braces are a popular orthodontic tool that date back to the 19th century. The first braces were made by Christophe-Francois and had a simple design. They were placed over two sets of teeth to keep them in place and were primarily designed from wires. Braces evolved quickly through the years. Elasticity was added to the design and incognito braces were introduced to the industry. Currently, plastic aligners made from 3D printing are among the innovations taking center stage in the industry.
Types of Braces
Traditional braces: They are the most popular type of braces. The braces are made from medical-grade stainless steel and the modern designs are light and comfortable. Metal brackets linked by arch wire are attached to the teeth using orthodontic cement. Elastic ties are used to hold the arch wire in place. Patients can request for colored ties to customize their braces
Self-ligating braces: It's hard to tear apart self-ligating braces from traditional braces but they use specialized clips instead of elastic ties to hold the arch wire in place. The braces require fewer adjustments and yield faster results
Clear braces: They hold the cosmetic advantage of being inconspicuous but serve the same function as traditional braces
Clear aligners: They are custom-made acrylic trays that straighten teeth. They are comfortable, inconspicuous and removable.
Lingual braces: Also called incognito braces, this type of braces is fitted at the lingual surface (back) of teeth. As a result, they are hardly visible.
Braces are designed to correct misalignment. They are also used to manage crowding and crooked teeth. Braces improve the aesthetics of your smile and restore normal bite function.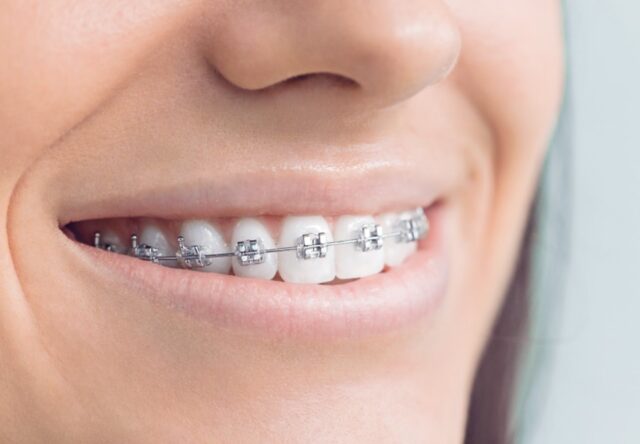 Pros
Good Appearance: After your brace treatment, you can get a good appearance of your teeth and face. In the long term, it will look good on you. It can resolve highly complex alignment issues.
Minimizing Dental Problems: All the severe dental issues will be solved after taking this treatment. If you are suffering from chewing or swallowing issues, facial pain, plague, etc., then you can get rid of them.
Straight Teeth: If you are struggling to get a beautiful smile due to unaligned teeth, then this treatment will be a perfect decision for you. The braces can straighten your teeth and make them look good.
Cons
Take a Long Time to Get Results: You have to keep patience if you opt for this treatment. In comparison to adults, children can get results quickly. You have to invest more than two years to get the perfect results.
High Maintenance: It is necessary to clean and maintain the hygiene of the braces. If you do not clean it thoroughly, your teeth will get infected by plague or other bacteria.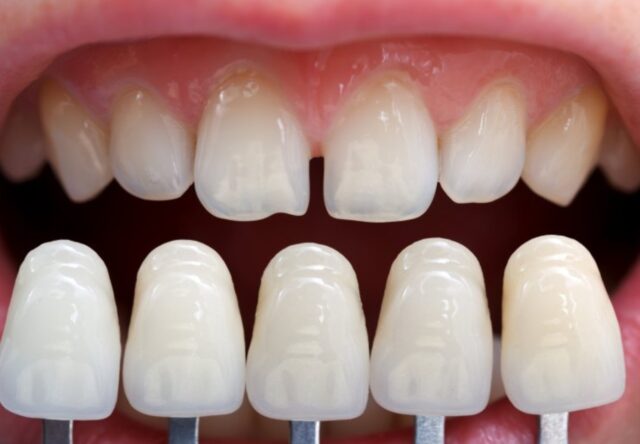 Veneers
Dental veneers are custom-made shells designed to fit over the front of teeth and mimic the appearance of natural teeth. Veneers are fairly new to orthodontics and only date back to the 20th century. Currently, they are a popular solution for different conditions that affect the aesthetics of teeth.
Types of Veneers
Porcelain veneers: When it comes to strength and durability, porcelain tops the list. As a result, it's the best choice for veneers. The material is the least harmful and most aesthetic. Due to their biocompatibility, the material rarely injures surrounding tissues. Porcelain veneers are a permanent solution and are installed after thorough preparation.
Composite veneers: Composite resin is the primary material used to design composite veneers. Although not as durable as porcelain, composite veneers are strong. They are prone to staining over time but offer a more affordable permanent solution.
Lumineers: They are designed from ultra-thin porcelain laminate material that gives them a natural look and feel. They are reversible and require less tooth preparation before placement. Hover, Lumineers are prone to fracture and damage.
Removable veneers: They come in two types: instant veneers and custom-made clip-on veneers. The former is inexpensive and are fit into the mouth after placing them in hot water and pressing your teeth into the soft material. Clip-on veneers, on the other hand, are high quality veneers designed in a dental lab after an impression is taken.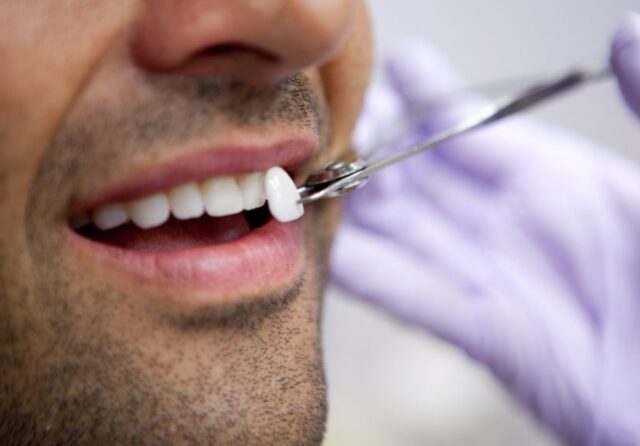 Veneers mimic natural teeth and are used to change the shape, color, size and appearance of teeth. They are used to fix chipped teeth, crooked teeth and discolored teeth. However, veneers cannot replace absent teeth.
Pros
Looks Real: The Porcelain veneers are ceramic-made, and it seems quite natural. It gives a natural covering to your teeth like enamel. No one can detect that you are opting for any treatment.
Resistance to Stain: The surface of the veneers is relatively smooth. It protects your original teeth from permanent stains. Even if you smoke or drink, there will be no stains on your teeth.
Durability: The veneers are long-lasting as they can last for at least 15 years.
The Versatility of Color: You can choose the color of the veneers if you want to transform dark-colored teeth into white.
Get Confidence with Improved Appearance: When you improve your dental health issues, you will look better. It will enhance your confidence, and hence, you can get back your dazzling smile.
Cons
High Cost: The veneers are quite expensive as compared to other dental treatments. You have to pay for a single veneer, and if you multiply them by the number of teeth, it will be expensive for you.
Fragile: Undoubtedly, these veneers are sturdy, but you have to be careful while grinding hard foods. The replacement will also be an expensive investment.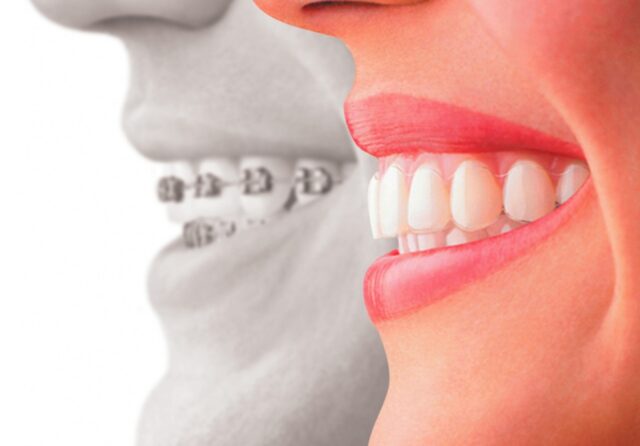 The Bottom Line
Although braces and veneers are both used in orthodontics and cosmetic dentistry, they fix different problems. Nonetheless, both options are effective in improving aesthetics. It is better to consult a dentist for better treatment as per your dental health.