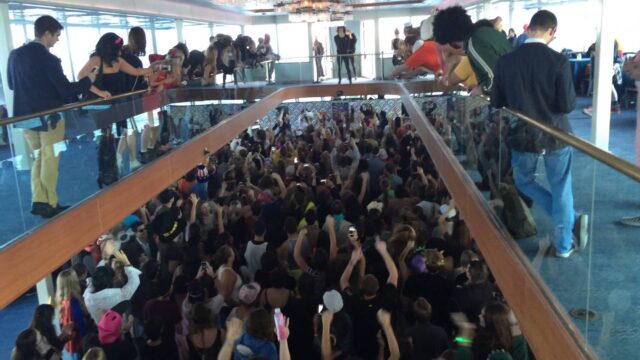 Anyone who has ever considered themselves part of the electronic dance music scene can attest to the workout that attending such events can be. Honestly, getting the funk down with your friends is a more fun way to work up a sweat than running mile after mile on the treadmill, right? The founders of the Daybreaker Morning Movement said yes, and in December of 2013, brought the first morning rave to NYC for those reasons.
Daybreaker calls itself a \"morning movement,\" through which they manifest their goal to start your day off unlike anything else can. Their website and Facebook page package it as a healthy jumpstart to any day; a way to stir up your spirits. Complete with free coffee, fruit infused drinks, water, and live DJ\'s, the event looks much like a rave. The sessions usually go from 7 AM to 9 AM, just in time to send attendees off on their work day. Daybreaker was not originally marketed as an alternative to working out or fitness, but as the morning dance sessions continued, people began talking about it as such. As the morning movement caught traction in Brooklyn and Manhattan, the founders wanted to make sure it remained drug and alcohol free as it expanded to other cities. People began calling it a morning rave, but the only things it has in common are the vibes, jams, and dance moves. The association with the word \"rave\" made them nervous people would think of it as another drug infused EDM after-party at dawn. Luckily, people respected the event\'s commitment to sobriety as it grew. The purpose is to start your morning off with good people and a good sweat, not to party hard. The energy of the event has spread it across the country and across the pond,  from Los Angeles to San Francisco and London, to name a few.
Daybreaker\'s website now has Chicago on its 2015 radar, amongst many others including Philadelphia, Washington D.C., Cape Town, Berlin, and Amsterdam . This could be to demand from Chicagoans on their Facebook page begging them to bring an event to the Windy City, considering our electronic dance music scene here could surely sell a lot of tickets to those that are curious about what a sober, morning rave could have to offer. Currently, Chicago is marked on their map with a \"Coming Soon\" icon. We can only hope this event lands here and successfully helps to give EDM yet another platform to shift its perception from that of neon, hard-partying teens to one that truly and more accurately celebrates the artistry and culture surrounding the dance music of our era.
---
Photo Source: MaxRes
Source: Daybreaker, Mashable