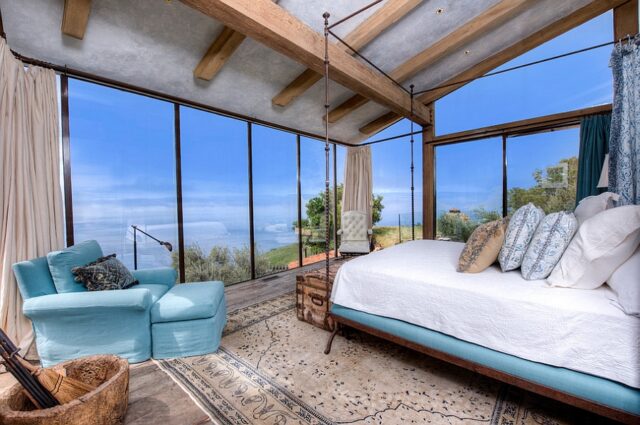 Have you ever thought about your dream home? What would it look like? How big would it be? Where would it be located?
When asked about the home of their dreams, people usually have a clear vision of what would be the perfect oasis for them. According to numerous surveys, there are certain things people want in their dream home. That being said, the majority of people dream about having a fantastic, spacious balcony, a special room for relaxation or entertainment, a nice wine cellar for them and their friends and family, their personal gym or even a movie theatre or a library.
However, when it comes to the style of a home, it's been shown that there are no rules and that people most certainly have different preferences, needs, lifestyles and finally – budgets. With the rise of modern technologies, the boundary between luxury and other houses has been erased. Now, almost every home can be equipped with smart home technology, a home gym, nice outdoor space or beautiful furniture, and it doesn't have to be ridiculously expensive.
Looking at the homes inside and out, it seems like the hottest trend right now is minimalistic, simple houses with modern interiors and accessories. However, this also varies from city to city, country to country or even from neighborhood to neighborhood.
That being said, it's important to define some of the most common or the most popular design styles, whether it's interior or exterior. Therefore we have a lot of mid-century modern homes that helped us get the minimalist homes we know of today since this style introduced new lines, materials and elements that were revolutionary in the 20th century.
Industrial, Scandinavian or bohemian are only some of the more specific styles that have unique features and are usually tailored for people's specific taste and requirements.
However, according to Foyr.com, one of the most popular architecture and decor styles at the moment, is most certainly – Mediterranean style. What is Mediterranean style and what does it include? You have surely seen beautiful and grandeur homes in Europe, that are widely known for their spaciousness, charm, colors and a lot of greenery or in other words – nature around. That being said,  the main purpose of Mediterranean homes is to become a peaceful oasis or rather a retreat where the owner can relax, enjoy beautiful weather and connect with nature the best way possible. As we've mentioned before some of the most wanted home features are balconies, big backyards and patios, and this architecture style is exactly like that.
When it comes to interior design, it's specific for elements such as warm colours, a lot of wood, a lot of natural light and generally speaking – natural materials such as stone or iron (other than wood, that is the main one). It's important to mention that not every home looks the same if it's built or decorated in Mediterranean Style. Why is that? There is not only one style but there are several Mediterranean home styles such as Italian, Spanish revival or modern. Although they have quite a lot of similarities, they still are somewhat different. However, the one thing you will find in every Mediterranean home, is timeless beauty and a seemingly wonderful outdoor and indoor flow.
What's good about this type of design and architecture is the fact that it's timeless, which means that people who own a Mediterranean home don't have to redecorate it every once in a while, only to be able to follow all the trends and changes that are happening in the real estate market; as well as the design market and many other factors that affect people's taste when it comes to their home. Mediterranean Interiors are well-known for their symmetry and a charming winter look that really gives a character to the space.
So what can you do to help make your home interior start looking the Mediterranean? If you don't have the option to build your home like this, you can use certain decor elements to make your dreams come true. This is especially the case with the bedroom. That's the place where all the magic happens. Your cozy oasis for recharging your batteries, resting, and it is also one of the rooms in every home where you spend the majority of your time.
Here are some ideas on how to make your bedroom look like one of the most beautiful rooms we've all seen in Italian movies:
1. Start With Neutrals but Don't Be Afraid of Colors
The first thing I need to do is to choose neutral colors such as whites, beiges, browns and greens – all in order to mimic nature and its beauty. This will give your bedroom natural, Tuscan vibes and it will bring you peace, rest and calmness. Choosing a palette of two natural colors and then playing with accent colors and details is what makes
Mediterranean style so unique and astonishing. Try combining brown and white, and then include terracotta, yellow or blue accessories or decor elements such as baskets, artwork, sculptures, etc.
2. Forget About the Curtains
If you want your bedroom to look like the Mediterranean, you need to allow the light to come in. In order to do this, you need to consider replacing heavy curtains with ones that are light and see-through, and of course, removing blinds from all your windows. This will give you a beautiful, natural feel, and it will connect you to the outdoors of your home. Finally, you will be able to enjoy both the sunshine and the starsky at night.
3. Include Vintage Elements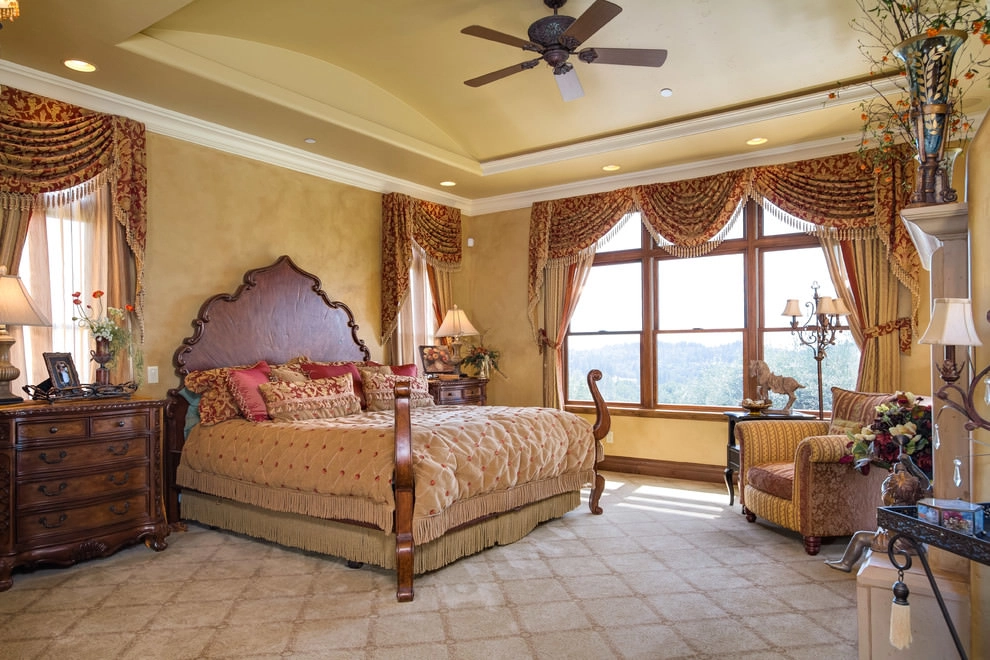 One of the most common characteristics of this style are the unique, sophisticated and timeless elegance of decor elements, so consider including vintage furniture, lighting fixtures, rugs, bed frames, tables, lamps, pillows, etc – all of this helps achieve the look you want. And it also shows your personality! Don't hesitate to spend some time looking for the perfect furniture pieces or decor details in vintage shops, markets and other places where items like this can be found. It's what gives a special character to your bedroom.
4. Embrace the Romance
Mediterranean style is also known as romantic, so embrace the pastels, embrace the natural light, embrace the nature and natural materials and finally – don't forget to add some famous arched shapes to your bedroom. Whether it's a big mirror or a frame for your artwork, it's something a Mediterranean bedroom can't stay without.