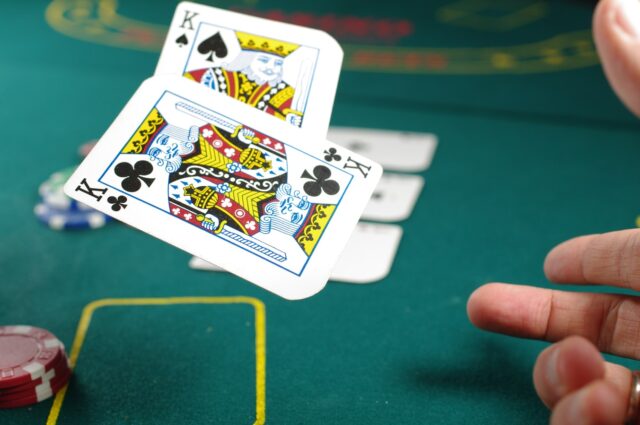 Casinos are full of action, excitement, and intrigue. They give action directors a chance to put viewers on the edge of their seats, culminating in everything from big wins to cons and complete emotional breakdowns. Some of the best scenes in cinematic history have taken place in casinos, and in this list, we'll look at several of them.
1. Casino Royale – The Poker Scene
The Casino Royale poker scene featuring Daniel Craig's James Bond is one of the best-ever casino movie scenes. Bond faces off against Le Chiffre (played by Mads Mikkelsen) in a game of Texas Hold'em, with some tense exchanges and big deposits that result in Bond being poisoned.
In the original Casino Royale novel, as well as the 1954 TV adaptation, Bond played Baccarat and not Poker. In 2006, however, Texas Hold'em was one of the biggest casino games in the world and was deemed more suitable for a global audience.
If you fancy sitting yourself in Daniel's shoes, but don't quite have quite enough funds to stack and slide across the desk, you can enjoy some games for just a £10 deposit here.
Incidentally, another Hollywood classic, Rounders, was instrumental in turning Texas Hold'em into the game that it is today.
2. Rain Man – Beating the House
Rain Man is an iconic film for several reasons. It has been referenced in countless movies and TV shows and even people who have never seen the film know what it's about and can recognise many of its central themes and references.
Rain Man was actually one of the first major Hollywood productions to be filmed at Caesars Palace, and the scene in question follows brothers Charlie and Raymond (played by Tom Cruise and Dustin Hoffman) as they win big at the Blackjack tables, with Raymond using his exceptional skills to count cards.
Hoffman won his second Academy Award for his performance and the film was nominated for 8 Oscars in total. It was also the highest-grossing film of 1988.
3. Casino – Sam and Ginger
Casino is a 1995 film directed by Martin Scorsese and starring Robert De Niro, Sharon Stone, and Joe Pesci. It follows the life of Sam "Ace" Rothstein, who is asked to manage a major casino and hotel, and there are many great scenes inside the casino.
One of the most iconic scenes is when Sam first meets Ginger, played by Stone. She's a streetwise hustler and during the introduction, she's doing her best to steal from the casino and cause a distraction. Sam falls in love with her as soon as he sees her, and their relationship arc forms a major part of the film's storyline.
4. Ocean's Eleven
Released in 2001, Ocean's Eleven is a heist film that was directed by Steven Soderbergh and featured an all-star cast, including George Clooney, Julia Roberts, Brad Pitt, Matt Damon, and Andy Garcia. It was massively successful and spawned two sequels and a spin-off.
It's hard to pick a favourite scene, but the final heist is definitely one of the most memorable and features a brilliantly plotted twist. Whether you're a fan of heist films or not, it's hard not to admire this slick and stylish crime classic.
5. The Hangover
The Hangover, hailed as one of the most successful films of all time, is a must-see, if only for its funny yet eerily realistic depiction of the Las Vegas experience. The first film was released in 2009 and continues to delight moviegoers all over the world.
Some people believe that films with casino scenes should have a criminal narrative and be full of challenges that the main characters must face at every step. The Hangover, on the other hand, is a film that seamlessly blends brilliant comedy with unforgettable casino scenes.
The casino sequence is eerily similar to footage from "Rain Man," in which the protagonist utilises a counting approach to beat the casino. In this example, the protagonist, played by Zach Galifianakis, tries his hardest to game the system and eventually goes on a winning streak. The scene begins with one of the protagonists, Alan, bringing out a book called "Guide to Blackjack" before cutting to the gang confidently entering the casino. As their winnings mount, they sit down at a traditional blackjack table. Then, regrettably, they see that they are receiving unwanted attention from casino security and flee!
6. Run Lola Run
Lola, played by Franka Potente, is shown rushing through the streets of Berlin in an attempt to obtain a 100,000 mark ransom for her bad-boy criminal boyfriend in just 20 minutes.
In one scene, a bedraggled Lola rushes into a high-end casino full of tuxedoed and coiffed patrons and lays a 100-mark opening wager. The patrons' contempt for the scruffy woman was short-lived. However, when she wins a jackpot on the roulette wheel and screams so loudly that the champagne glasses in their hands are shattered.
This movie may sound a little old, but you can be sure it'll keep you entertained with its quick pace.
7. Casino
No list of casino movies would be complete without a mention of this legendary 1995 film. If you are dissatisfied with the casino's short scenes, this movie is worth your time. The entire plot of the film is focused on detailed scenes of slot machines, board games, and Las Vegas' brilliant lights. Martin Scorsese went all out for this film, gathering an all-star cast that included Robert de Niro, Joe Pesci, and Sharon Stone, among others. Many of the characters in the movie are based on real people, which adds to the epic nature of the story. It was difficult for us to pick just one scenario out of so many amazing ones.
The one that takes the cake, though, is when a cowboy puts his feet up on a blackjack table, only to be severely reprimanded for his lack of respect by being thrown out the door. Try some casino bonuses on Fliptroniks if you are interested in quality online casino games.
How to bet like in the movies
Betting with a strategy can be a great way to increase your chance of winning at the tables. Just like in the movies, there's an exciting art to placing bets – it requires luck, skill, and knowledge.
Before placing any bet, it's important to understand the odds and what they mean for your potential payout. Betting odds indicate the probability of a given outcome, which usually applies to a sporting or race event, or another type of competition. The fractional, decimal or American odds that are offered by different bookmakers will all depict the same level of risk and reward – it's just that they each describe it differently. Trying the site https://online-casinos-australia.com/no-deposit-bonus/ could be a good starting point.
Conclusion
Casino gambling sequences can be seen in some of Hollywood's most wonderful films. In certain scenes, luxury casinos were used by filmmakers to depict the incomparable excitement and tension between the protagonists. A casino, on the other hand, is a fantastic location with a unique style. Many people still associate these locations with big victories, dashing men in dinner jackets and stunning women in evening gowns.