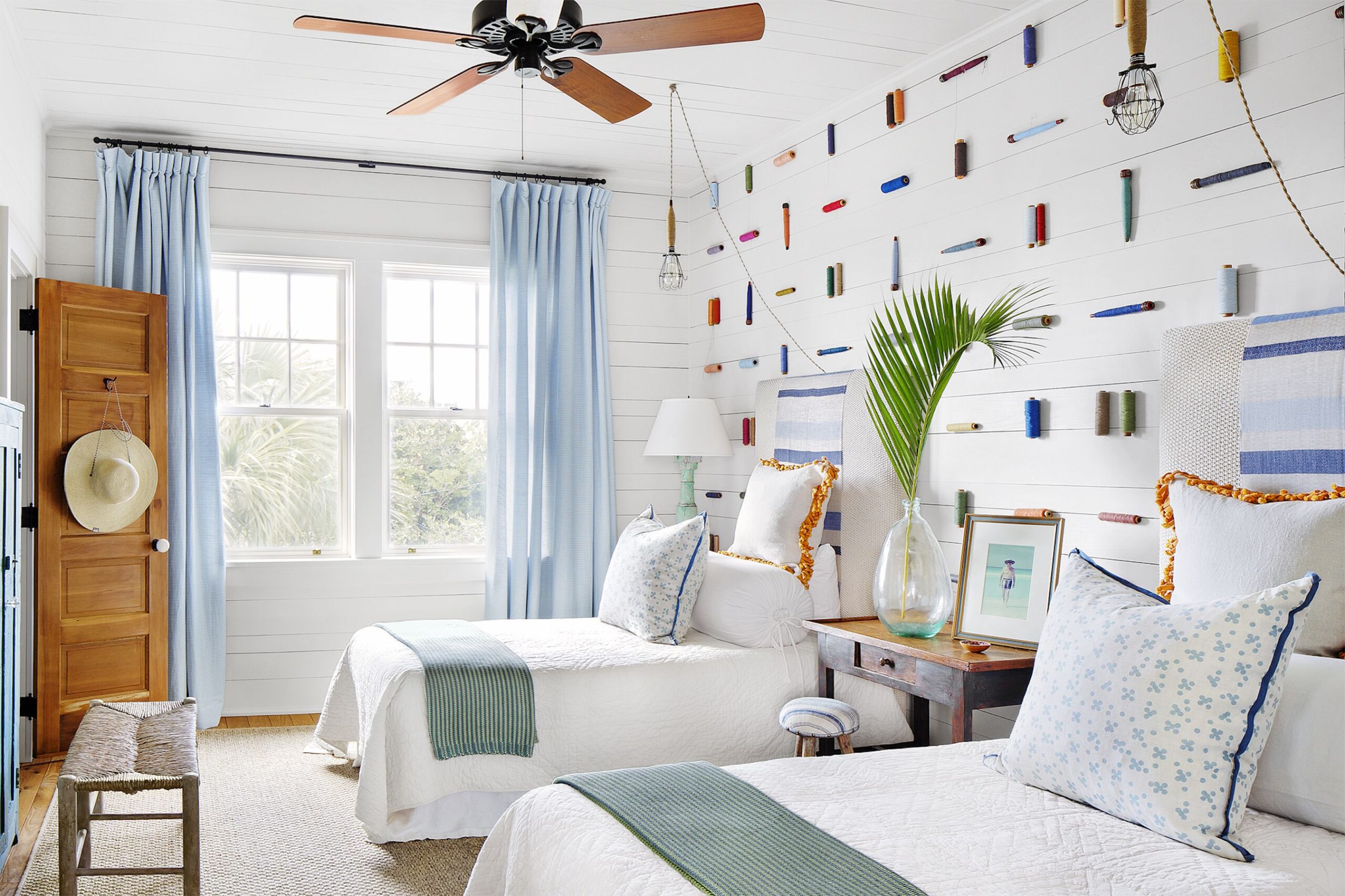 If you find zen near the beach but can't go beachside every day, why not inspire your bedroom (or any other room) with your love of coastal life?
If you're drawn to beaches and oceans, you'll love to explore these 24 impressive beach vibe room décor ideas. So, check out these beach decor ideas with us:
1. Keep it Open and Airy
Let in the maximum natural light, hang linen curtains, and get a crisp white slipcover. All these come together to create soothing and comfy coastal living.
2. Cane Bed
Invest in cane furniture to lend a coastal vibe to your room. Pair it with white and blue bedding that is reminiscent of the sky and ocean.
3. Paint your Shiplap Blue (or white)
Shiplap walls speak of spontaneous beachy vibes. We recommend blue-painted shiplap walls. Complement the look with a weathered bed frame.
4. Beach-Themed Wall Art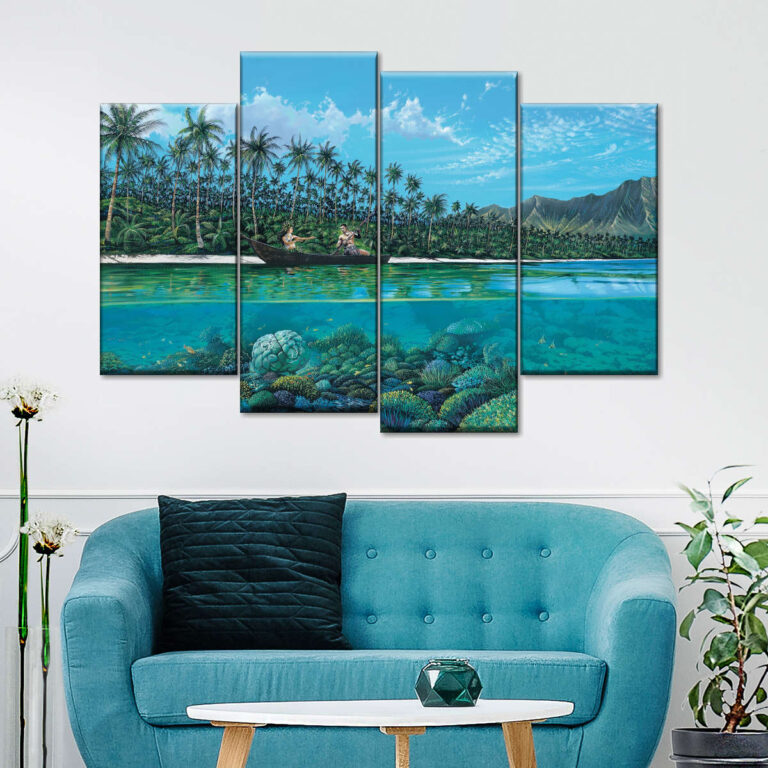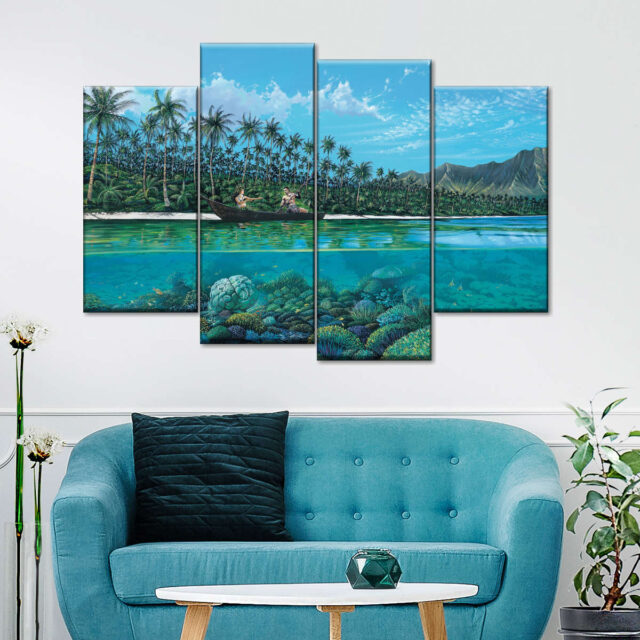 Are you looking for something that instantly adds the perfect beachy vibe to your room? Visit here to find a big collection of stunning beach paintings.
Here, you'll find art and paintings inspired by sandy beaches, tropical beaches, cliffs, palm trees, beach sunsets and sunrises, islands, and many more.
5. A Wicker Headboard
Another option for the bed is a wicker headboard and a beach wall art. You can buy or DIY a wicker headboard in a variety of interesting sizes, shapes, and styles.
6. Shadowboxes
Think out of the box with shadowboxes and create something from your own finds from the beach. Bring on the chic starfish, shells, and more jewels from the ocean.
7. Shell Chandelier
A shell chandelier featuring cascading windowpane oyster shells offers your room a subtle and sophisticated beach style.
8. Beach-Themed Wall Covering
With some striking wallpaper, like the one featuring dark palm trees, you may completely transform the look of your walls. This is a great alternative if you don't like your coastal-themed room's typical blues and whites.
9. Peppy Pillow
Make your seating pop with some cheeky, beach-themed pillows. They fit adorably in spaces like your reading nook, bedroom, patio, and even your living room.
10. Sea-Worthy Blues
Accentuate your crisp white walls with varying shades of blue to achieve a calming beachy vibe to your room. Then, finalize the look with some nautical pillows, wicker baskets, and seashells.
11. A Starfish Wreath
Greet your guests with a beach-inspired wreath on the door. Make a starfish the star of the show. Use white and soft green blossoms to bring the hues of sand and ocean to your display. You can use monograms to add a personal touch.
12. Coral and Shells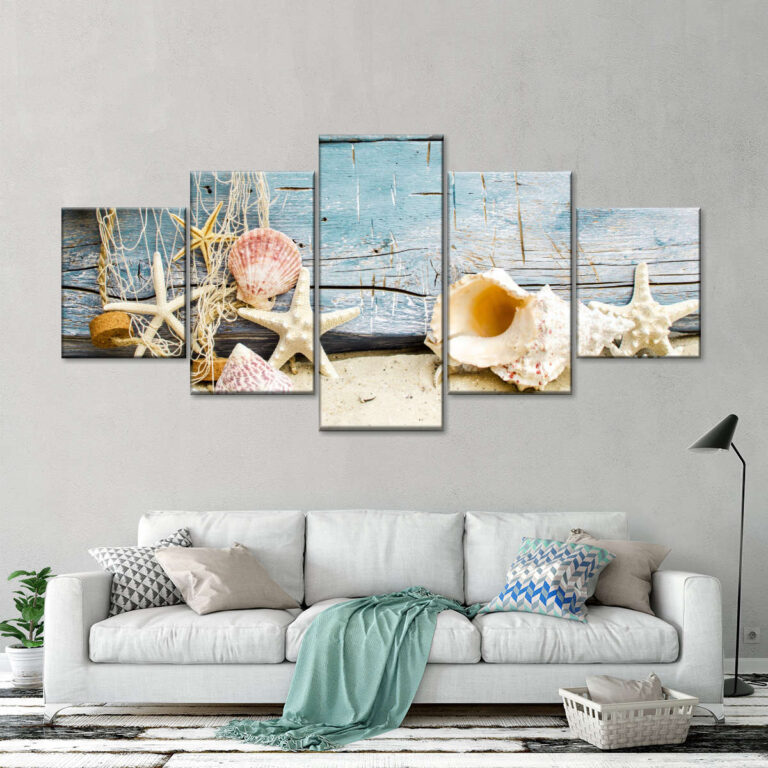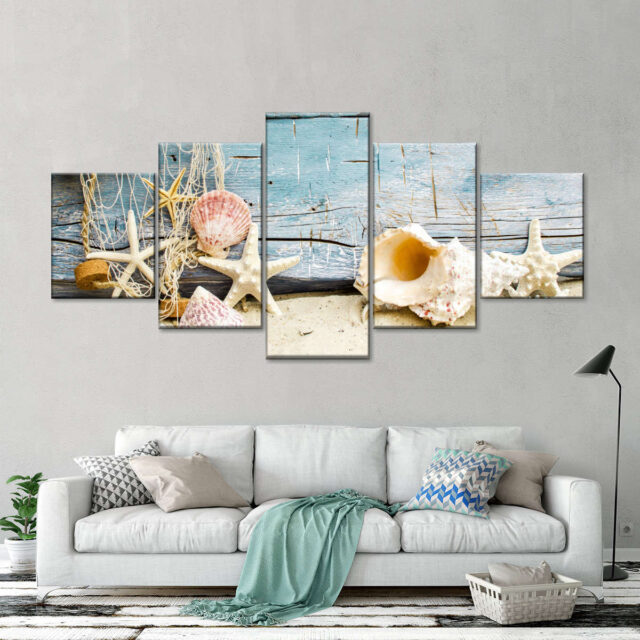 The marine world gifts us with corals and seashells. These natural jewels come in a variety of sizes, making them great for shelf displays, wall art, and tabletops. Group them together to create a natural focal point in your space.
13. Decorate with Vintage Oars
Decorate your space with painted vintage oars and paddles for a perfect nautical-themed look. You can even paint them for a fun, bright look.
14. Starfish Tassels
Your beach walk is incomplete unless you've collected starfishes during the walk. And, you're lucky if you get a large one!
Add a natural twine loop to an arm of the large starfish. Then, attach it to a curtain tieback. You can also add a dangling shell as a tassel. Finally, pair it with sandy-shaded curtains to channel a summer beach vibe to your room.
15. Driftwood Coffee Table
Driftwood boasts a natural weathered look. This is caused by its constant exposure to the sun, salt, and water. Driftwood's soft color makes it a wonderful background for tea lights.
So, drill some shallow hills on the driftwood so that it can hold candles. Then, place it on a weathered bench painted in a soft beachy shade. Results? A perfect coffee table.
16. Bring in Botanicals
Beaches are incomplete without trees. So, complement the coastal charm of your room with some houseplants. Choose non-flowering houseplants!
17. A Rustic Dresser
Paint your dresser in a soft, weathered turquoise color. It creates a nice background for seashells and starfish motifs on the front. Replace traditional drawer handles with boat ropes to make your dresser look both functional and stylish.
18. Breakfast Under the Palms
It's not just about seashells and sand. You've lots of interesting possibilities. For example, you can put some bold palm fronds in a clear vase for an instant subtle coastal look to your dinner table.
19. Coral and Shells on the Bookshelf
Your bookshelf is the best place to display the treasures gifted by ocean life. Coral and driftwood sit atop your books of all shapes, sizes, and colors. Seashells, sand-filled jars, and sponges peak out in all directions. Add hints of sot tans, subtle whites, and weather greys to your bookshelf.
20. DIY Nautical Mason Jars
If you've got a creative flair, then you can paint some empty mason jars in a nautical theme. For example, color a jar red and blue in the background. Then, paint a black anchor in the foreground. Choose any design of your choice!
21. World Map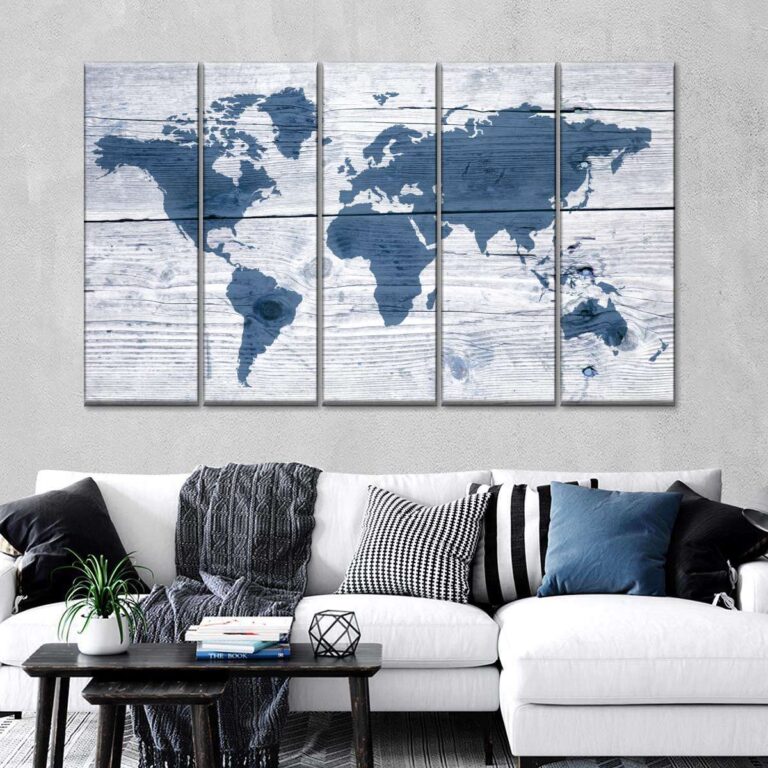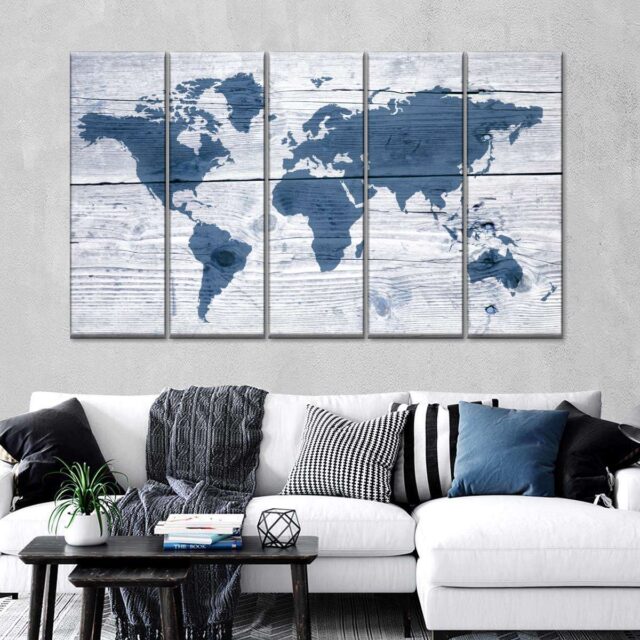 Show that you're ready to embark on a voyage by hanging a world map. It can be a world map wall art, something painted on fabric, or even an oversized paper map. Get something with lots of blue colors.
22. Play With Pattern
Wicket, whales, boats, dolphins, seashells, palms, or anything related to oceans. Create whimsical walls with interesting coastal-inspired colors and patterns.
23. The Nightstand Trick
Replace your bulky nightstand with a garden stool next to your bed. Pair it with beachy décor, and it feels like relaxing on the front porch gazing at waves in the distance.
24. Sea Sayings Sign
Remind you of all your favorite beach things with small DIY signs in various styles, shapes, and beach-inspired colors. Put them together or allow them to work individually.
Bonus Idea – Stripes
Blue and white stripes are another key element when giving your home a coastal makeover. Besides blue and white, you can choose other subtle shades like sea glass green, warm gray, and more.