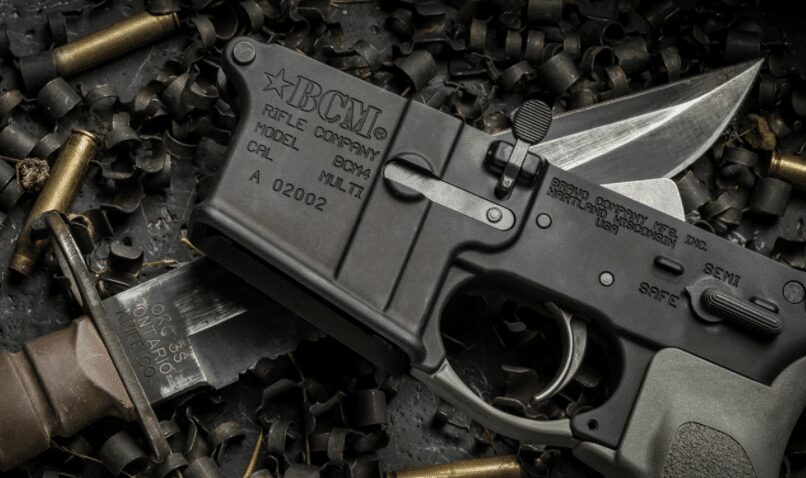 In the world of AR15s, some folks are looking for something unique and interesting. There are many options to check out like the complete AR rifles featured here.
Today, we're going to cover ten of the more interesting and unique AR15 lower receivers on the market today.
1. The Palmetto State Armory Gadsen Receiver
This one is more or less a standard stripped AR lower, but with one thing that makes it a little unique.
Where most ARs have a manufacturer marking of some kind, Palmetto state Armory has laser-etched the Gadsen flag, a long-standing symbol among those who prize the Second Amendment, and the right to gun ownership more broadly.
The lasering is nice and crisp, so it should last the life of the receiver.
2. The Yankee Hill Machine Biller Lower Receiver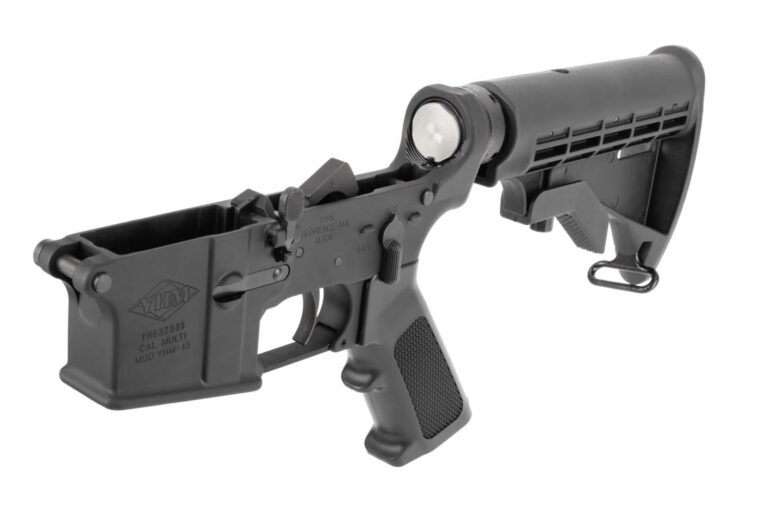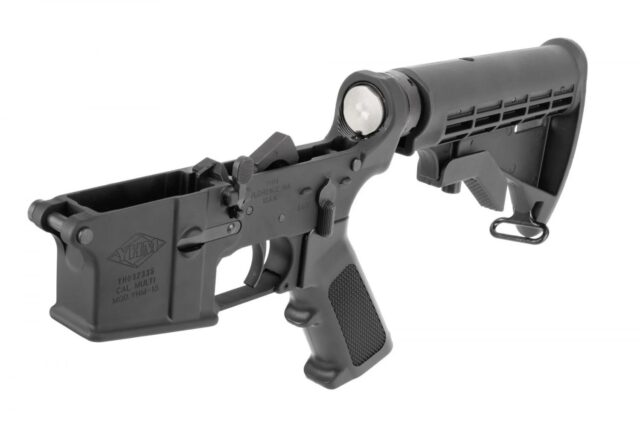 In terms of functionality, this is a standard, mil-spec AR15 lower. Yankee Hill mas made one little change to this one, though: the front of the receiver has both finger grooves and a slightly flared magazine well.
This makes the receiver look a little more aggressive than the typical lower receivers out there, and we think that the grooves and magazine well would also make it easier to use with a magazine-well grip that's popular among people who shoot in close quarters.
The Lead Star Arms Skeletonized AR15 Lower Receiver
Appearance-wise, it's hard to find a lower bolder than some of the offerings from Lead Star Arms. This particular receiver series comes in three colors.
Of course, there's a standard black, but where's the fun in that? You also have the options of a dark navy blue and an extremely bright red. For our tastes, we'd go with the red.
The receiver also comes with a skeletonized magazine well, which both adds to the striking appearance of the receiver, but also does take out a little bit of weight as well.
3. The Juggernaut Tactical Lower Receiver 80% with American Flag
For both the handy and the patriotic, this is a lower worth your time. First and foremost, it's a lower receiver that has the American flag on it.
It's also an 80% lower, which means that you can order it right from the website and have it shipped to your house. From there, you'll have to finish it yourself using a jig kit and a drill press. If you follow the instructions, you'll get a unique-looking AR that you finished yourself, which is a great project for many gun owners.
4. The Sharps Brothers the Jack Lower Receiver
For those looking to make a bit of a statement with their AR15, the folks at Sharps Brothers have a line of receivers just for you. This one, which functions with all mil-spec AR15 parts, also happens to have a skull as the magazine well. While this doesn't change the function of the lower receiver at all, it's certainly an interesting design that will turn heads at the rage.
It might take a little getting used to in terms of seating magazines and getting a grip, but this is, at the very least, an interesting lower receiver.
5. James Madison Tactical 80% Polymer Lower
From a distance, this lower looks unremarkable: it's a simple black lower that takes all mil-spec parts. This one is special in two regards. First, it's a polymer lower: which means that it's made from an exceptionally durable plastic that will hold up well over time.
Second, it's an 80% lower which, as I mentioned before, means that you can have it shipped right to you so that you can finish it yourself. Between those two features, this lower receiver is one of the more unique designs we've seen.
6. The Sharps Brothers Warthog Lower Receiver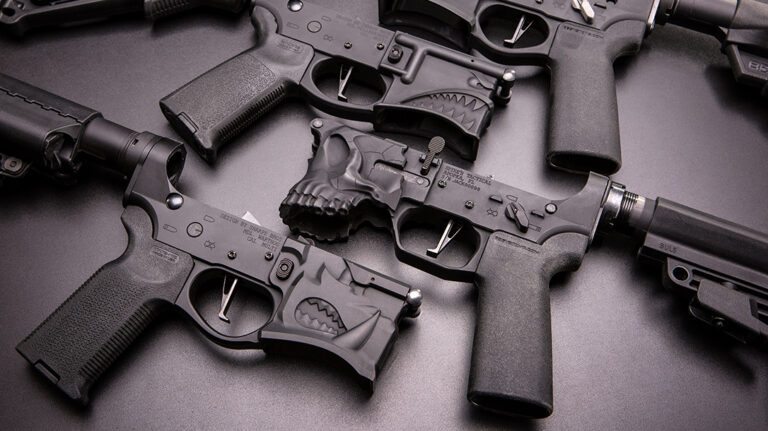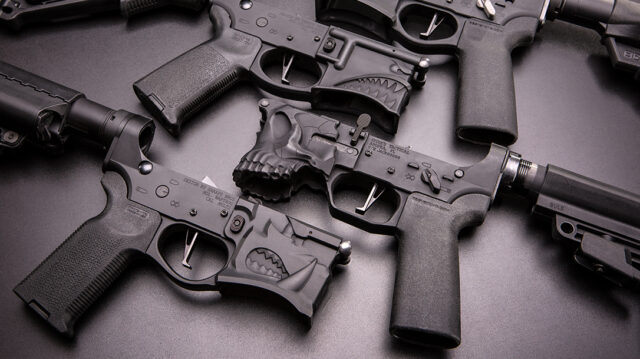 This one is another offering by the folks at The Sharps Brothers. This one has a warthog in the front of the receiver. While these designs might not be everyone's cup of tea, they are certainly interesting. With this design, you would definitely need good quality ammunition from Natchez to make sure to fully utilize this weapon.
Beyond being a mere novelty, the machining done to put the warthog's snout into this receiver is downright impressive. In this case, the thing that we like the most is that there's a skeletonized bit that shows off the teeth. At the very least, this is a showcase in quality matching and takes your AR to a whole different level in terms of style.
7. F1 Firearms 805 Raw Aluminum Lower
If you ever wondered what an AR lower receiver looked like before it was anodized, this is it. We think this one is unique in three regards. First, it's an 80% lower. Second, it comes without any finish on it at all, and third, there are finger grooves in the magazine well for a better grip.
If this was our gun, we'd finish milling it out but keep it unfished for an interesting-looking AR15, even if it meant that the metal would require a little more upkeep than a usual AR lower.
8. The Foxtrot Mike 45ACP Billet Lower Receiver
We're including this receiver for one main reason, that's it's in .45ACP for the caliber. Where most AR receivers meant to become pistol caliber carbines are in 9mm, this one goes for the classic .45ACP cartridge.
Specifically, this is meant to take Glock 45 magazines. Generally, we think this would be a great lower for someone who has a Glock 45 and wants to use the same magazines in a little bit longer firearm than their 45ACP handgun.
9. The Sharps Brothers Hellbreaker Lower Receiver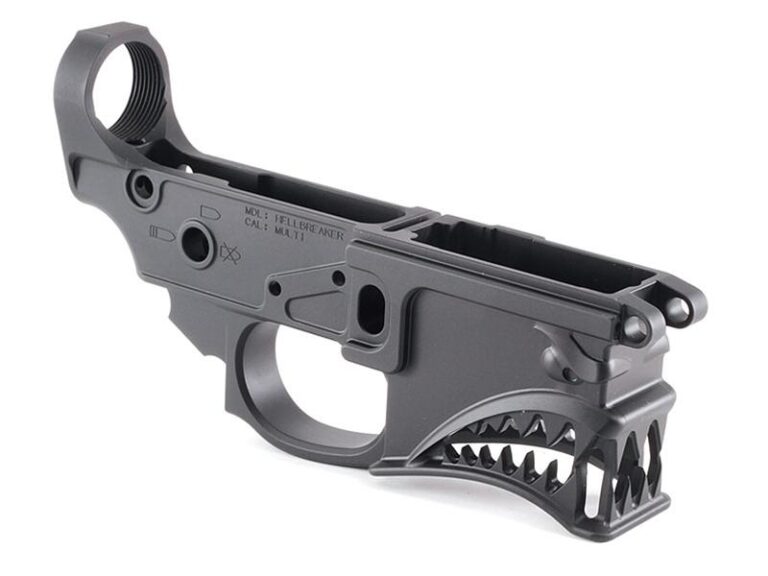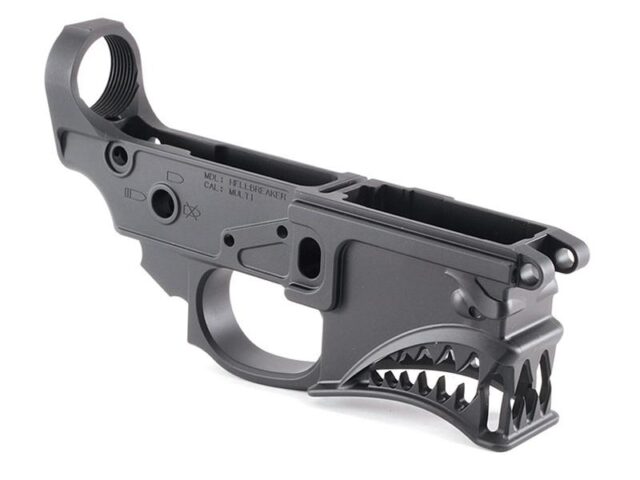 To round things out, we have our favorite Sharps Brothers design. This one has a replica of shark-style nose art, popular on WWII fighters, on the magazine well of the lower receiver.
We really like the jaws that are skeletonized, making them a striking contrast to the rest of the receiver. The teeth might look a little bit fragile, but since they're aluminum, we expect them to be nice and sturdy.
The receivers on this list vary in style, material, and construction. All of this goes to show that the world of AR15s has a lot of interesting lowers out there for people who want a unique firearm.