When it comes to planning a wedding, there are countless decisions to be made. One of the most important is selecting whether you want to buy your wedding invitations locally or online. Both options have their advantages and disadvantages and can usually be tailored to fit your budget, style, and timeline. In this guide, we'll explore the pros and cons of buying locally versus online so you can make a confident decision for your own special day.
Benefits of Buying Locally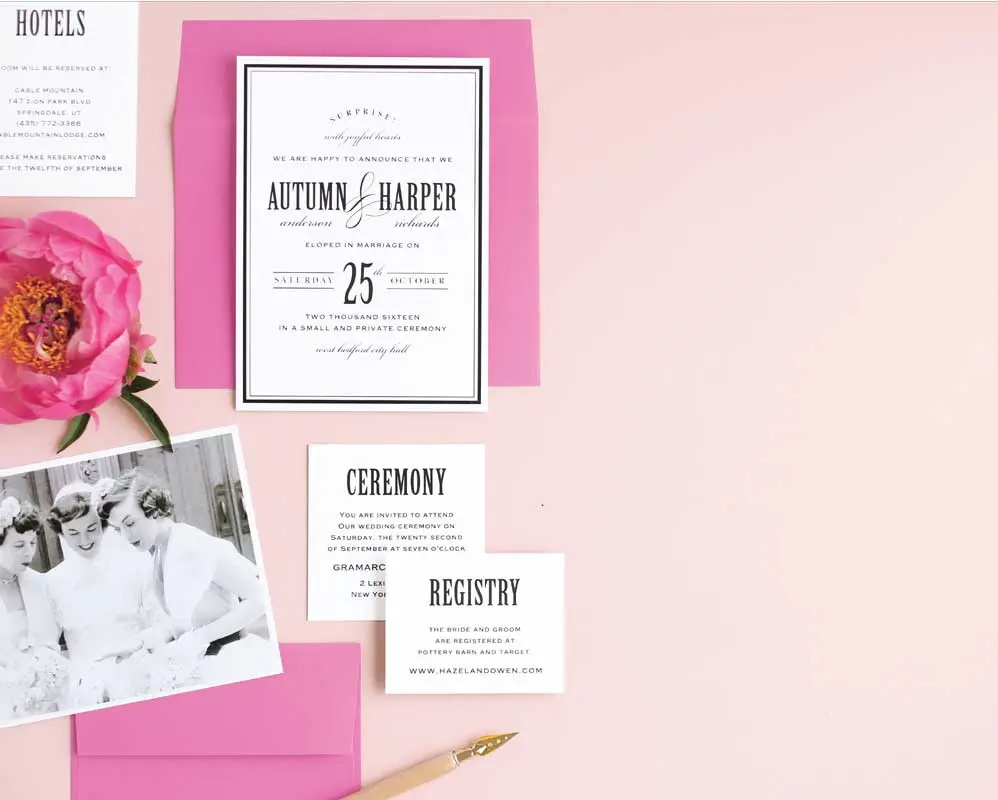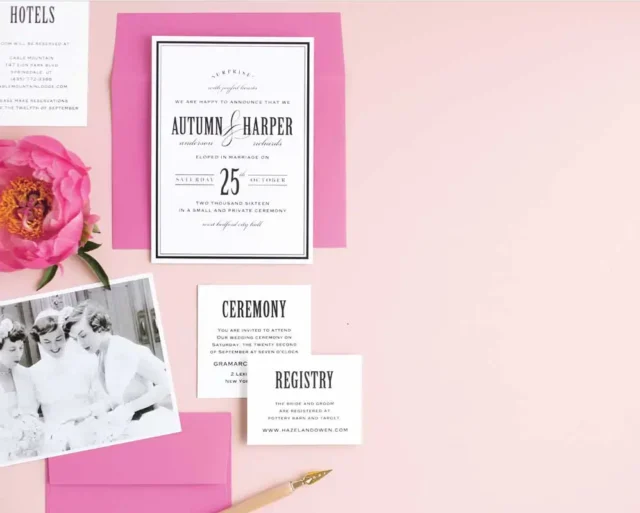 Buying your wedding invitations locally has a number of benefits. By visiting a stationery store or printing shop, you can browse a wide selection of paper invitations, learn about different options and discuss your needs with an experienced salesperson. You may even be able to tour their production facilities to get a better understanding of their crafting process.
Choosing locals allows you to work face-to-face with the supplier, giving you more control over what is created for your special event. Additionally, local companies can often provide same-day or next-day services if needed to ensure that your invitations arrive on time for the big day.
Finally, buying from a local store provides the convenience of being able to take the finished product home with you after the purchase is complete. This ensures that everything is exactly how you want it before it goes into mailboxes, saving time and hassle during an already busy period in your life.
What about online?
One of the main advantages of buying online is convenience. When you purchase online, you can easily browse a wide selection of different designs from the comfort of your own home, instead of having to visit multiple stores. The ability to compare different vendors and prices at the same time can also save time and help you find an ideal solution for your wedding budget.
Another benefit is access to more customizable options. Many online stores allow customers to personalize their wedding invitations with different fonts, wording, themes, etc., in order to create unique invitation that reflects their style and personalities. This can make it easier for couples who want something that isn't readily available in local shops.
Buying online also makes it easier for couples who are ordering large quantities or require cards printed with special specifications like metallic ink or letterpress effects. Online retailers may have the capability to provide these services without charging extra fees or requiring large orders.
Finally, ordering invites through an online store offers more payment options than purchasing locally (e-gift cards, PayPal, etc.) and also potentially offers discounts like free shipping which could further reduce overall costs.
Considerations for Choosing Between Local and Online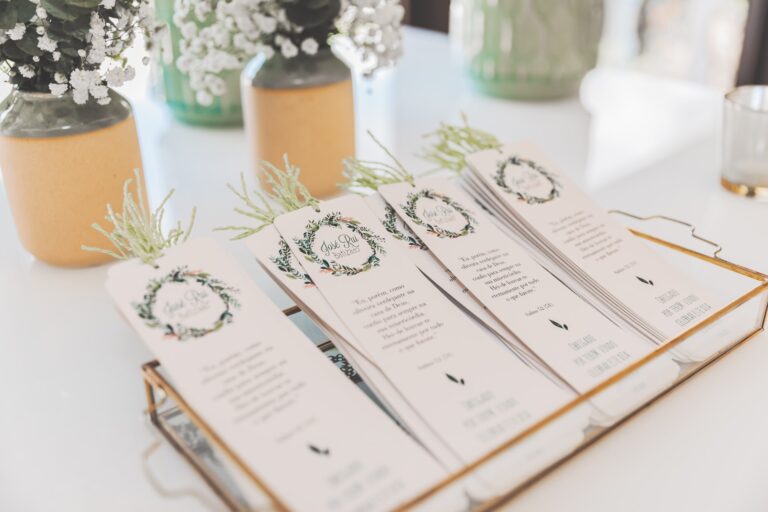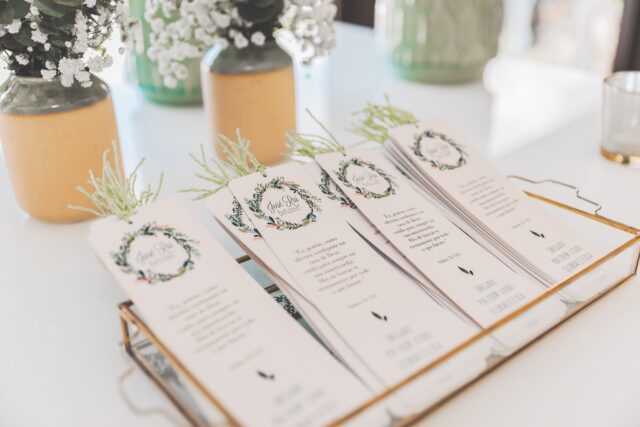 When buying your invitations locally, you are presented with the opportunity to physically see and touch samples. This is a great way to gain a better understanding of the stationery's paper quality, color saturation, and overall presentation. However, this can also lead to more stress in the decision-making process because of the sheer abundance of invitation styles available on display.
Alternatively, when buying your wedding invitations online, you often have access to more designs than those offered by local retailers which may include custom options from independent designers who offer one-of-a-kind stationery solutions. Ordering online also has its drawbacks as many vendors only put out digital proofs of their designs for customers to browse through which may be difficult to visualize prior to making a purchase decision.
Overall, the approach that works best for couples depends on their preferences and budget constraints as some online vendors offer discounts on bulk orders or free shipping while local retailers may provide free samples or in-person consultation services. Weighing out all these factors ahead of time makes it easier when it comes time to make the final decision between buying your wedding invitations locally or ordering them online.
Tips for Buying Locally
When buying locally, it's important to check for quality as well as design. While visiting stores in person, be sure to ask about return policies just in case you make the wrong choice or want to make any changes down the line. Additionally, ask about shipping methods and compare prices online before settling on any one store.
Ordering invitations locally will save time if you are in need of immediate delivery or overnight service; most stationary shops can special order items and have them shipped directly from the supplier rather than relying on long mail order delivery times.
Tips for Buying Online
Research the company: Research the reputation of any company you are considering buying from, by reading customer reviews and looking into their return policy in case there are any issues with your order.
Look at sample invitations: Most companies will have an example or template available for each invitation style or design so you can get an idea of what your invitation would look like when printed/assembled/sent out.
Compare delivery times: Check delivery times on different websites before making a decision, as these can often vary widely between companies. You don't want to end up with an invitation that arrives late!
Watch out for hidden fees: Keep an eye out for hidden fees such as shipping charges, rush order fees, and taxes that may affect the cost of your final purchase.
Ask questions: If there is anything you don't understand right away then take the time to ask questions– many companies will offer live chat customer support so don't hesitate in contacting them if you need any help throughout the process!
Conclusion
When it comes to purchasing wedding invitations, the decision of whether to buy locally or online ultimately comes down to personal preference. Although buying locally may be more convenient if you're looking for a customized product and prefer to be able to check out samples in person, buying online offers the convenience of any company being only a few clicks away and usually offering competitive prices. Additionally, online shopping allows for the comparison of numerous vendors at once and saves time in the process. Ultimately, it is important to weigh all your considerations before making your final decision.